Need to move across the country? Whatever your reason for relocation, preparation is the key to a successful move. Moving across town only requires a few steps of preparation. Prepare for the long journey and the bumpy roads, however, when your belongings need to travel hundreds of miles.
The following preparation tips and tricks for long-distance moving in Rockville or anywhere will help you stay organized and ensure everything reaches your new home intact! This will going to be your best tips to prepare a long distance move if you follow step by step. We're here to assist you. Just follow our 10 Effective Ways to Prepare a Long Distance Move.
We have compiled some effective lists for you to do before moving long distances. It will be straightforward and ensure a smoothly upcoming cross-country relocation.
1. Manage Time Is the First Effective Ways to Prepare a Long Distance Move
Are you planning a long distance move? Be smart with the time you have until you move out.
During the moving preparation phase, keep a personal moving checklist handy.
Set up your moving calendar with tasks that are personalized to your relocation situation.
Sort your move-related tasks in order of importance – this means starting with the tasks you must complete.
The most thorough relocation checklist ever created, available free of charge can help you understand what to include on your moving timeline.
Ask a estimate of last minute emergency various moving services from a professional moving company.
2. Inventory Home and Organize Your Belongings
It is essential to determine what items you will be moving in advance so that you can create a good plan for the move.
Inventory your entire house by walking from room to room and listing everything you find in each.
You can take advantage of modern technology.
An app that lets you create a state-of-the-art house inventory checklist allows you to save valuable inventorying time.
ASK yourself whether you want to move, sell, donate, or recycle your possessions.
Best long distance moving services in Rockville MD or anywhere will give you a suggestions on how you manage your belongings.
3. Get Rid of Anything Unwanted
Moving long distances will have a cost that depends on the number of items to be transported as well as the weight of the items.
Take only the items you will need in the future to reduce your moving costs. You will have to pay more if you move more stuff.
You should follow the one-year rule when deciding whether or not to keep something.
If you haven't used it for more than 12 months, you don't require it.
Prior to the move, DISPOSE of anything with commercial value.
You can GIVE lightly-used items you aren't taking with you to friends or DONATE them to charity.
4. Switch Your Home Utilities
To avoid unexpected problems, such as unpacking at night, you must plan ahead when you move a long distance.
Before moving out of your home, you should definitely change your home utilities.
Ask yourself whether you will require all of the utilities you are currently enjoying – electricity, Internet, water line, cable TV, sewage, gas, telephone, waste disposal, etc.
Disconnect your current utilities by contacting your utility companies. You should do this roughly 3 weeks before you move out.
Make sure your new-home utilities are activated timely by contacting the new utility providers in your destination community.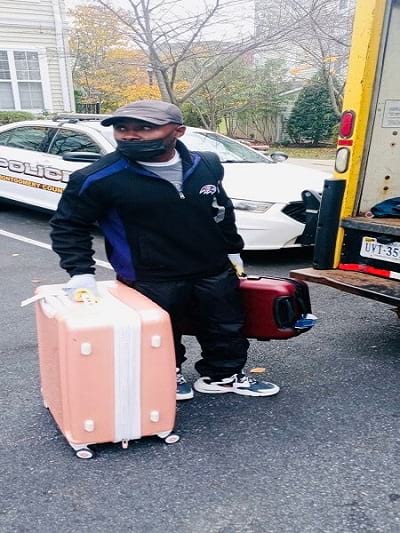 5. Update Your Postal Address
To avoid unpleasant surprises during your long distance move, this guide's sole purpose is to prepare you for the steps ahead.
You need to change your postal address when you move to another city or town in the country.
The United States Postal Service (USPS) will continue to deliver your mail to your new address if you change your address.
Two weeks before the moving day, begin the Change of Address (COA) process. Changing your address after a move is also possible.
Change your address by phone, online, in person, or by mail, whichever method is most convenient for you.
6. Get Your Medical and School Records
You should also make sure to gather all necessary documents and records before moving across the country. After moving, find a new doctor and register your children at a new school.
Make sure you request your medical records (including vaccination records) from your family doctor.
It will be necessary for you and your family to register with a new primary care physician in your new town.
You should ask your child's school for his or her school records.
You may arrange for the records to be transferred directly between the two schools.
7. Plan and Budget for Long-Distance Moves
Plan your moving budget before starting to move because some extra cost makes you more nervous.
If you are moving to your personal car, be sure to include a budget for food, hotel, and gas.
Sometimes a situation can arise car trouble, delays, forgotten snacks. An organized mover is one who is likely to complete the day less stressed and successfully.
It would be a better suggestion I want to give, "when anyone asks how to prepare for a long distance move?". Yes, you should always be ready for any situation and carry petty cash.
8. Plan for Pets
Long-distance moving with pets is incredibly challenging. But in some simple way it can be super easy.
In general, moving your pet in a vehicle is the best option, but it isn't always possible.
It is important to get a proper carrier for your pet, along with medication and food for both transportation and arrival.
Plan to have your pets vaccinated and obtain a pet health certificate (required by airlines).
See Also : How To Properly Labeling Moving Boxes: An In-depth Guide
9. Get a Free Long Distance Moving Estimate
Try to find the best local long distance moving company in Rockville or in your area by being reasonable.
ASK multiple long distance movers in Rockville or in your area for an in-home estimate.
DO NOT accept! You should never deal with movers who attempt to give you a quote over the telephone or through email.
Your moving experts can calculate the moving price accurately if you show them the items you have to move.
Be sure to get written estimates from them.
10. Relocation Preparation
Before relocation, you have to get vital preparation for a stress-free move.
It is important to have a plan for keeping kids and pets entertained before you leave for your new home, especially if you're traveling by car.
Consider taking frequent breaks, bringing snacks, charging your devices, and stopping along the way to sightseer or visit friends.
The first thing is, you're all fit to go to a new destination with proper plan and preparation, so there is no need to worry.
Moving is a stressful and unpredictable experience. Because of this, you have to follow the above tips, and making a proper plan will ease the move. Having a game plan can help you break up that seemingly insurmountable task of moving Long-distance into bite-sized, manageable chunks.
Don't stop! Stay with best movers in Rockville MD to find out more tips and tricks for "Moving day preparation," "Packing preparation," "Unpacking preparation," and various kinds of moving circumstance problems and solutions. Happy Moving.