You will most likely use your computer throughout the day in the office today. Because of this, you should only trust your computers to movers who specialize in moving computers. 90% of all homes and businesses today will have workable computers that eventually need to be a shift as well. Since this equipment is high-value and fragile, it should be handled by professionals.
We provide professional computer and lab moving services in Rockville, MD, if you are looking for the best computer moving service near me. IOMI-certified our movers are properly trained and diligent, ensuring that your business is up and running as fast as possible in the new location.
However, our goal is to minimize your downtime in order to get you back in business as soon as possible after your relocation. Whether it is local computer move, long distance, commercial and residential as well. Our superior team is always ready to assist you in any situation. Continue reading to learn more!
Rockville Computer Moving Services Assured Offers
Creating customized solutions for each client is essential as every business has different disconnect and reconnect needs. Whether it is moving your valuable IT equipment or setting up a cloud computing environment, our team works with you to determine the most appropriate solution.
Comp-U-Wraps and IOMI Certification
In order to provide our customers with the best service possible, Rockville Electronic Movers follows strict guidelines as one of the few IOMI-certified moving companies in the DMV region. Comp-U-Wraps are electrostatic bubble pads used to prevent damage in moving electronic equipment.
Comp-U-Wrap is designed to protect heavier items, accelerate the packing process, and reduce moving claims. The fact that the product can be reused repeatedly makes it very eco-friendly, so the service is efficient and professional, reducing our ecological footprint.
Services For IT Relocation
We don't ignore any details when providing comprehensive computer relocation, disconnect, reconnect, and IT disconnect, connect services. Our technicians will securely back up your servers and files before our technicians disconnect your machines. The equipment will be labeled before shipping by our computer relocation experts.
We will ensure that all of your computer equipment is correctly connected when your computers and IT equipment arrive at your new office. As we progress with your project, we'll update you regularly on the progress of your project, and we can set up LCD projectors, video conferencing systems, and more if necessary. Choosing Rockville IT moving company will make your move easier than ever before.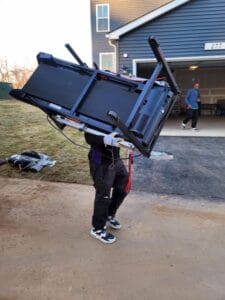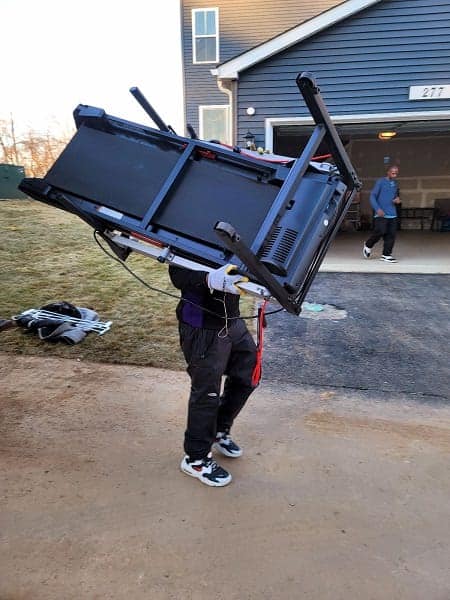 Here are some of the items we move:
Computers
CPU's
Servers
Docking Stations
Local and Network Printers
Shredders
Telephones
Printers
Tablets
Copiers
And MORE!
Moving Electronics Services
Do not just pick a company that says they move computers when looking for a computer movers near me. It is advisable to look for a company that will explain how they move computers, and if there will be other services offered besides transportation.
Rockville computer moving company provides the following services:
Disassembly/reassembly
Full-service packing
Transportation
Debris removal
Utmost Safety
Moving your IT equipment to your new office will not be an issue if you use one of the DMV Movers LLC computer movers. By completing our quote form on our website, you can receive a free estimate from our commercial moving company Rockville.
Computer Equipment Move: 11 Tips How To Pack It Safely
Digital technology plays a vital role in the everyday operations of businesses. Most offices utilize one or more of the following computer types:
Desktop PC's (featuring a keyboard, mouse, and screen),
A stand-alone computer (desktops or laptops with or without towers) and
Multi-server environment.
If you're moving your business, you need to know how to pack your computer equipment safely no matter what type of device your company uses.
1. Collect Proof Of Purchase
Purchasing strong moving boxes and unplugging the cords are necessary steps before you move. You should collect all receipts related to the business computer, hardware, and software as well. It is helpful to have proof of purchase if a replacement cost requires verification.
Consider obtaining an estimate of the equipment's value if receipts are not available. A mover's protection plan provides compensation for damaged or lost equipment if it is lost or damaged during the move.
2. Take A Backup Of All Your Data
Files that are important cannot be replaced anymore. Before you load the computer equipment into boxes, make a copy of all important documents carefully, including research papers, bank statements, and employee work records. Carefully back up business data on external drives for reliable protection.
You can digitally back up the company's records during a move in case the computer equipment is damaged or lost. When packing your computer and IT equipment, make sure the external hard drive is packed separately.
3. Climate Awareness
Depending on weather conditions, technology equipment may malfunction. High temperatures and cold temperatures can damage electronics. Changes in temperature can shorten battery life cause cracking, warping, freezing, and loss of data.
Typically, moving vans do not have climate control. Remember this when you move during the freezing winter or sweltering summer. Make sure the box holding your electronic equipment is kept in a cool, dry place, like your car.
4. Label The Cords Of The Computer
Now that you have finished your advanced preparation, it is time to concentrate on packing up your computer equipment. Cables are often hidden behind a desk in a jumble. Wires are plainly visible when you are getting ready to move. Color-code the cords so you can keep them organized. Once the electrical devices have been relocated, reassembling them is a straightforward process.
Identify each computer cord by stapling colored labels onto it before unplugging. For example, use yellow stickers on the mouse's electrical cord and on the mouse's shell. Every wire that is necessary to enable a computer to function should be connected in this manner.
5. Record The Setup On Video
The electrical wiring of the computer should not be unplugged at this point. Photograph the color-coded set-up of all the electrical components while they are connected.
After moving the computer, your smartphone will help you set up the configuration after it has been reconfigured to suit your needs.
6. Unplug And Pack Your Cords
Your next step is to unplug your computer after you've created your digital map. Using Velcro wrap, you can prevent cord tangles by wrapping each cord separately.
7. Boxes For Dish Packs
Boxes for dish packs are double-layered, offering extra protection for fragile items. Computer equipment is very well protected by these extra thick boxes. Dish boxes are also more expensive because they provide an additional layer of protection.
8. Box Padding
It is important to pad the dish box to prevent breakages. It is best to use crumpled packing paper because it is easy to fiddle with in corners and can effectively fill every inch of box space. By using as much paper as possible during the moving process, the computer equipment will remain secure. Crumble plenty of paper on the bottom of the box.
9. Wrap Your Equipment
Wrapping hard drives, monitors, and accessories, such as keyboards, in bubble wrap is highly recommended. If possible, wrap computer equipment by facing the pop side of the bubble wrap in the direction of the equipment, such as the tower and screen. Use shipping tape to secure the wrap.
10. Pack Up The Computer
It is recommended to put the heaviest pieces of computer equipment in the bottom layer of the disk packing box, on top of the packing paper.
Wrap the heaviest items in crumpled wrapping paper and add another layer on top.
Lighter accessories, such as bubble-wrapped keyboards, should go on top of the crumpled up paper.
Before incorporating the lightest of all items-the, the cords add more layers of fill.
Upon filling the box, check there are no empty spaces that will allow the box to shift during transit.
Add extra packing paper to all empty spaces.
Double-layer packing tape should be used to seal the packed box.
11. Put A Label On The Box
Lastly, the box holding the computer needs to be labeled properly. Make a note where the box should go using a thick marker. The box should include the contents that it holds, such as a computer, cables, and a keyboard. It should be marked "Fragile."
Last Word
If you need help with your computer and IT logistics, choose Rockville MD Movers for all your electronics and computer moving needs. With our computer relocation company near me in Rockville, Maryland, and the surrounding suburbs, we provide superior service. There are plenty of experienced technicians on our staff who are just as concerned as you are with your computer.
Speak with us today and learn how we can help! We can provide you with more information if you contact us now. For a get free quote from our top-rated Rockville movers estimate, you can call a moving company or request a free quote online by filling out our online form below.
See Our Other Related Blog Posts :