A move from one office to another is never easy. That's why you obviously find the best commercial moving companies near me to fulfill your needs. Business relocation requires a skilled and dedicated team. Many people find it an overwhelming experience due to all the planning, arrangements, and expenses.
Whether you are moving an office workstation or a warehouse, Rockville Movers can help you throughout the entire process, from planning to delivery.
Thus, it's smart to enlist the help of commercial movers in Rockville who are highly skilled and experienced. Luckily, you recently came across DMV Movers LLC, a well-known and established moving company. With a long history in the moving industry, affordable full-service movers with a rich portfolio know what it takes to perform a smooth move.
We perform a white glove move and installation from the initial walk-through to the final inspection as part of the service. Every commercial relocation gets completed successfully by our moving equipment and resources. Well, let's see what we offer for you.
Fantastic Offer On Commercial Relocation
Whether you're moving a cubicle, an office, a floor, or an entire building, we are the company to call first.
We provide upfront pricing, so you do not have to worry about hidden costs in the end.
Use commercial moving services near me that offer excellent services at affordable rates.
Our service lets you estimate your moving costs in advance.
The relocation experts at DMV Movers can provide your business with premium commercial moving services.
Each of our crew is trained, experienced, and knowledgeable, which means that we provide the highest quality luxury commercial moving services.
Using our customer-oriented corporate moving company, you can rest assured that your business will minimize downtime during its relocation process.
You want movers who can expedite your relocation in a timely and cost-effective manner while staying within your budget and schedule.
We will provide you with an instant estimate if you fill out the free business moving quote from us.
Finally, we finalize by providing additional support that continues until every belonging is covered.
What Makes Us Different?
Uninstall and reinstall OEM and non-OEM equipment.
As part of a secure, white-glove delivery process.
Labeling of wires and equipment, cable layouts, including rack elevations.
We have skilled and insured, and friendly moving crews.
Supervision and assistance with project management.
We use exclusive moving vehicles and equipment.
Specialized carts for computers, servers, and picture frames.
Apply large dollies for large safes and heavy file cabinets.
Whether it be small or large, we can handle everything.
The booking process is straightforward and easy.
With advanced technologies, we offer comprehensive commercial services.
Both the policy and certificate of insurance (COI) are provided.
NO HIDDEN FEES.
Provides Expert Packaging, Labeling, and Inventory Services
To ensure your items are correctly padded and prepared, we prepare them with necessary supplies before loading them into the truck.
Our company implements a labeling system for moving offices to ensure the most efficient and accurate move.
In addition to the inventory, if requested in advance, you will receive a copy for your records.
If you and other parties trying to complete the move are in need of a resource, then our account executives and field supervisors can be a great help.
In addition to coordinating the move, we can also work with building management, contractors, technology consultants, telephone equipment installers, etc.
Your appointed move manager can also be assisted and guided by a commercial relocation company in Rockville to ensure a smooth transition and to minimize disruption to your employees.
Commercial Movers – Key Ingredients to a Successful Move
Planning :-
Everything begins with planning. Planning a commercial move has never been easier than when Rockville Movers is on your side. Contact us today for a free commercial relocation estimate and proper planning.
A Complete Set of Tools and Equipment :-
We have everything you need to make your office move simple and easy. To ensure your company gets the best relocation service, we will use furniture crates, dollies, hand trucks, furniture pads, wall covering, etc.
Supervision :-
During the corporate relocation, a coordinator is assigned to make certain only the highest quality services are rendered. Our highly trained and experienced industrial moving teams aim to make your move as seamless as possible.
On-Site Commercial Moving Estimate :-
On-site commercial relocation estimates are essential to every office move. A detailed inventory list of all departments will be prepared by our experienced commercial moving estimators. Pre-move meetings will be arranged with employees based on how much office equipment needs to be moved.
Once that is done, we will present you with a written estimate for the commercial moving services. Let DMV Movers be your loyal office movers.
Some Assured Services Rockville Commercial Moving Company Offer
Minimize Downtime :-
We maintain productivity during the relocation process. We are fully dedicated to you. Here is how we can prove our worth:
Pre-move preparation and organization.
Background-checked, experienced teams.
IT equipment must be fully protected.
Decommissioning and recommissioning of computer servers.
Offering 24-7 communication.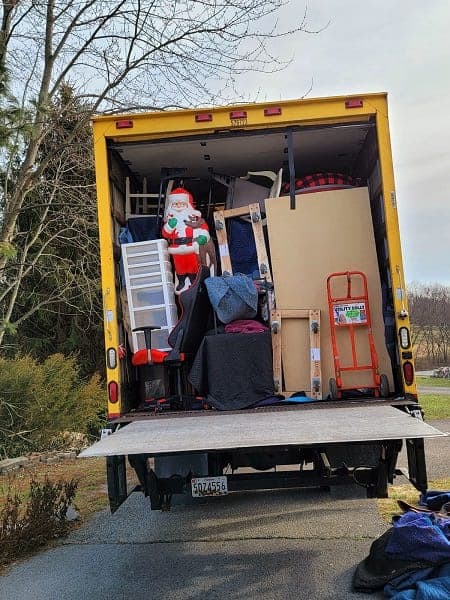 Minimize Risk :-
You will be able to move your buildings and assets with complete security.
Complete protection of building assets.
Licensed and trained commercial movers.
High-tech equipment and processes.
Workstation disassembly and assembly.
Building management assistance.
Customize Solutions :-
A commercial mover exceeds expectations by meeting the client's requirements.
Space and project planning.
Moving logistics.
continuity management.
Packing and unpacking of your items.
Providing label identification.
The Workplace Technology :-
From disconnection and re-connection of IT to data center moving to office technology consulting and implementation management, we provide complete office technology solutions.
Related Commercial Services :-
We'll take care of your entire commercial move from furniture installation and preparation to repairs and adjustments, saving you time and money. We are able to work with corporate related equipment.
Data Center Relocations :-
Our expert IT movers plan, deliver, install and perform on-site support when moving your data center to ensure the equipment works properly. By managing the entire relocation process and walking you through every step, we reduce downtime for your staff and your business.
Office Technology & Project Management :-
Prior to moving an office, discuss important workplace technology priorities to ensure your new workspace is well-designed, intelligent looking, and connected.
Complete Commercial and Office Moving Services :-
Your company can lose time and money when it works with several suppliers when moving offices. As a commercial moving partner with DMV Movers LLC, you will have access to a wide range of specialized solutions at your fingertips. By bundling services, we can save you money, and we can work with one trustworthy business mover.
Here is a Checklist For Moving Your Commercial Office
Step 1: GETTING READY TO MOVE
The process of moving your office starts with a site survey by one of our experts.
Here's your opportunity to talk with our relocation team about your relocation plan. As part of the site survey, you can discuss belongings inventory, the estimated timeline for moving your office, and any other issues you may have.
You will receive a quote from your Rockville commercial relocation specialist within 48 hours of completing your survey.
Step 2: PACKING
With years of industry experience, our team of professional movers is ready to get challenges. As part of the packing process, your office equipment must be disassembled.
Your goods will be protected with the highest quality packing materials and packed in sturdy carton boxes to keep their condition. Carton boxes will be labeled and organized in accordance with how the new office is laid out.
Step 3: RELOCATION
To transport the office furniture and boxes, our movers will carefully load them into our moving trucks. The risk of damaging your possessions during the relocation process can be protected by our customized insurance coverage. Additionally, we'll provide you with regular updates on your items in order to help you plan your return to business smoothly.
Step 4: ARRIVAL
When your furniture and equipment arrive, our staff will unpack them and assemble them at your new business premises. In addition to handyman services, we also offer custom shelving, waste disposal, and secure storage services as well.
To minimize the environmental impact of your company's products, all debris will be removed after they're unboxed for recycling.
Frequently Asked Questions :
Q. Would you be able to move our servers, computers, and other electronic devices?
Ans : Sure. Additionally, we offer the service of unplugging and reconnecting electronic devices like PCs, servers, and telephones.
Q. Do you handle moving workstations and cubicles?
Ans : Yes. For your convenience, we can disassemble, move, and reassemble them.
Q. Would it be possible to move our photocopiers?
Ans : Obviously yes. Indeed, we can do that for you. It is possible, however, that your photocopier supplier offers such a service. The majority of their services include free relocation.
Q. What should we do about our desk belongings?
Ans : We will provide packing materials and labels. Be sure to pack up your belongings in the boxes so our office movers can easily transport them.
Lastly
If you really want the best commercial moving companies near me, do not look further. Yes, Business movers in Rockville can be your good friend when you touch us. We are available 24/7 to answer your questions. With us, you'll stay up-to-date at every step of the process, eliminating the need for you to follow up. Plan your commercial move with our Rockville moving team today.
See Our Other Related Blog Posts :