As everyone knows, moving into a new home can be quite stressful, especially when it comes to the kitchen. The situation becomes even more difficult when you are dealing with appliances. It is pretty common for people to deal with pans, pots, flatware, and the like during relocations.
However, there are many scenarios where you may find a Refrigerator Moving Service Near Me to move a large refrigerator in its entirety. If this is the case, DMV Movers LLC is happy to assist you.
Basically, the refrigerator is a bulky, big, and expensive appliance. Depending on your situation, you may want to leave this task to a professional. However, in the event that this isn't possible, we have a backup plan for you. Plan carefully and use all the right tools to prevent this expensive household appliance damage. Regardless of how far the fridge has to travel, this guide will help you move it.
To get started, you will need:
Dolly for appliances with straps
Measuring tape
Power drill or screwdriver
Moving blankets
Cleaning supplies
Tape and rope
Two or more people required
Trash bags/ can
Moving truck
Helping hand
Move Your Fridge Safely by Following These Steps
When moving a refrigerator, understanding how to do so safely and correctly is essential, as winging it is risky, not only to the appliance but also to you. A professional can help you pack and move your refrigerator if you've got the time and budget.Make sure you go over these steps before relocating day and make a plan of attack before attempting to move a refrigerator.
Step 1 : Take Everything Out Of The Fridge
To start, you need to empty the fridge. This may seem like an obvious step, but you have to remove everything from the fridge. Eat all the refrigerated food you don't intend to take with you a week before you plan to move the appliance. You should consider finding a place to store anything you can't reach, whether you share it with someone else or store it in a cooler while moving. You need to empty the fridge and its drawers.
Step 2 : Shut Off The Water And Disconnect The Wiring.
More modern refrigerators are technologically advanced. Disconnect the water lines and wiring if the refrigerator has screens or an icemaker. Ensure the water lines are disconnected completely. As movers, we are generally hesitant to mess around with water lines, even though it is usually fairly easy to disconnect them. Due to liability concerns, most movers will not touch the Water lines or Wiring. Moving companies often provide the necessary tools, but they won't do the work.
Step 3 : Using The User Guide, Disconnect The Fridge
It is important to check your fridge's owner's manual for instructions on how to disconnect your ice maker and water filter ahead of time. Follow the owner's manual's instructions to remove the refrigerator doors or secure them with rope or bungee cords. Organize all screws and parts together in a ziplock bag.
As an extra precaution : To transport the refrigerator safely, remove the drawers and shelves from the refrigerator. To keep drawers in place, tape them in place if you're not going far. For protection from dings and scratches, cover the outside of the fridge with moving blankets.
Step 4 : Defrost The Refrigerator If Necessary
You must defrost your fridge before putting it into storage. This should only take you 6 to 8 hours to complete. During the winter, you shouldn't have any trouble. However, during the summer, the truck's fridge will begin to defrost and also leak water. Make sure that you have a sufficient amount of time before you move to defrost your refrigerator.
Step 5 : Disconnect The Doors, If Needed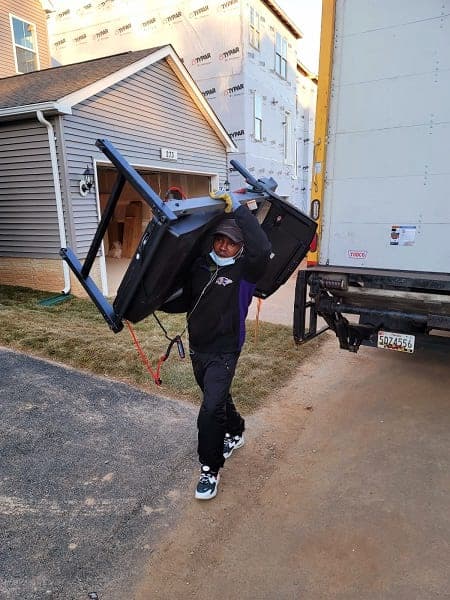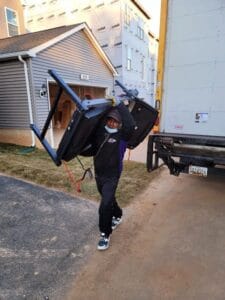 Once the fridge is defrosted and dry inside, you'll probably need to remove the doors—either on the fridge or on your home. It is noted that the newer refrigerators are quite large. Some are larger than a standard door size, and they're only getting bigger. If you can't easily maneuver the appliance out the door, take your doors off the hinges.
Step 6: Make Sure Your Refrigerator Is Well-Packaged
Choosing the right way to pack up a refrigerator is a big part of deciding how to move it. You can cause safety concerns and damage a refrigerator if you fail to pack it properly. Arriving at your final destination may also result in a broken fridge.
The key to packing it correctly is to carefully coil all power cords or lines and secure them close to the refrigerator using packing tape. Tape does not need to be applied directly to cords. Wrap them first with plastic wrap before applying the tape.
Step 7: Don't Scratch The Walls, Floors, Or Refrigerator
In particular, if you plan to roll the fridge in a rental, be sure to lay rubber mats down on the floor. No matter if you're using a four-wheeled dolly or not, those suckers are heavy and scratch floors instantly.
You shouldn't just push it (which is what you shouldn't do). Put moving blankets on the drywall in case you bump it, and wrap up the fridge to avoid scratches.
Step 8 : Plan The Move By Measuring The Fridge And Doorways
Moving a refrigerator depends in large part on its width and the width of your doorways. If you need to fit through the doorways of both your house and refrigerator, for instance, you might need to remove the doors for both.
Measure your fridge's height, width, and depth with a measuring tape and a notepad. Afterward, measure your interior hallways and doorways. Develop a plan to fit each refrigerator through the doorway. If you are pushing a fridge through a door using a dolly, the last thing you want is to find it doesn't fit.
Step 9 : Move The Refrigerator Using A Dolly
Firstly, you should use pads on the dolly to prevent the metal from scratching the fridge. Secure the refrigerator to the dolly by sliding the dolly under the appliance and wrapping the straps around it. You can now tip the fridge to face you by bracing the dolly with your foot.
The center of gravity will be found by repeating this process. Instead of peeking in both directions during the move, keep your eyes on one side of the fridge. Make sure you have someone to guide you.
Step 10 : Keep It Secure In The Truck
After the fridge has been wheeled out to your moving truck and made its way inside, you will need to secure it firmly to the truck wall with ratchet straps or rope.
In addition to having low mobility wheels, refrigerators tend to roll across the truck, which could lead to them falling over on your expensive equipment. So, you have to be very careful about secure loading and placing as well.
Step 11 : Reassemble The Refrigerator In The New Place
As a start, check the size of the refrigerator in your new home (and assuming it fits), wheel it inside. Lowered slowly into the new location, the fridge on the dolly will fit better in the space.
So that it doesn't slam down, you should use your own weight. Replug the water and electrical lines, and wait to fill them with food again.
Step 12 : Plug In And Wait Before Adding Food
Plug in your fridge after it has been moved for a couple of hours. The next time you move the refrigerator while it is on its side, wait twice as long before connecting it back in as you did while on its side. If it's no longer working, wait as the manufacturer recommends before putting food in, usually between 24 and 72 hours.
Step 13 : You Can Get Help
In order to avoid possible back injuries, you should always enlist the help of your friends or relatives in moving the fridge since it weighs more than 300 pounds. It is recommended that you wear sneakers and clothing that will not bother you if they get dirty. It is the most efficient and secure way to hire a professional moving company in Rockville.
Don't forget:
You can prevent odor buildup by keeping your fridge's doors open if you aren't plugging it back in right away.
Refrigerators should always be stored upright.
Before moving any large appliances, ensure that the dolly has a balanced weight.
Consider having an additional person at the bottom of a flight of stairs if you need to ascend them. You can move the dolly up one step at a time while they help lift the fridge.
FAQ's
1. Is it possible to move a refrigerator by laying it down?
It is technically possible, but you shouldn't lay the refrigerator flat to move it.
2. How long should a fridge sit after moving?
If it has been lying on its side for longer than a day, let it stand for 24 hours. For service, cleaning, or adjusting, just a couple of minutes of standing is all that is necessary.
3. How many hours should the fridge be off before moving?
Your refrigerator needs some time to settle in your new kitchen after it has been moved safely. It should be unplugged and standing upright, allowing the compressor oil to settle for at least four hours. Once four hours have passed, it can be plugged in.
4. Does it ruin a refrigerator to lay it down?
Oil from a refrigerator's compressor can spill into the coolant lines when the unit is horizontal, causing the lines to clog. Furthermore, placing a refrigerator squarely on its back is a big no-no: even if the internal parts are not exposed, the weight of the fridge may cause damage.
5. Why can't you plug in a fridge after moving it?
In order to prevent the oil inside the compressor from moving out, you should leave your fridge off after transportation. By turning off the refrigerator, the oil will return to its proper place. The compressor might seize if too little oil is provided.
6. How do you protect hardwood floors when moving a refrigerator?
A hand truck for moving appliances can be used, but you will also need cardboard, blankets, or tarps to protect the floors. According to some experts, one should gently lift the refrigerator and place it on the floor protectors before sliding it away. In order to prevent wheel marks on the hardwood, don't use a hand truck.
7. How long should a fridge be off before being moved?
You will want to be proactive about defrosting your fridge so that it won't leak into your truck unexpectedly and ruin your items. Depending on the size, it can take as little as a few hours. Make sure the doors are open, fill old towels into the fridge, turn it off, then leave it for 48 hours. As needed, replace the towels with clean ones.
Final Thoughts
If you are concerned about packing and transporting your refrigerator, a professional moving company may be your best bet. In order to find a reputable refrigerator moving service near me, check out the moving company in Rockville, MD, directly. Obtain three quotes at least to ensure you will get the best service and price possible. You can call Rockville movers by the phone or fill out our online form for a free estimate. Happy Moving.
See Our Related Other Blog Posts :