The old has to go; the new has to come. Now is the time to get rid of your old table, chair, couch, or desk and replace them with something you love. Want to hire someone to move furniture? The Rockville MD movers prepared with a smile, some handy tools, as well as expertise in order to complete the project efficiently and effectively.
A perfect blueprint has been sketched out for your loving home renovation. Now you'll have to figure out how to carry all your heavy and bulky furniture from your home guest bedroom to your newly-designed home office. When you know you can't handle the bulky items on your own, now who do you turn to?
Further, if you have anything fragile that you wish to keep in the best condition, you'll be glad to know that many companies offer storage services. There is no reason to do the carrying when our movers are available to help you!
In-Home Furniture Moving Services
Grandma's antique piano has finally been passed down to you. Having said that, you now have to figure out how to bring it into the room without damaging the walls. Sounds complicated, right? Not to worry, we can help. Our Rockville furniture movers are here to help you move your furniture upstairs or down stairs. They also can assist you in moving furniture within a room or from one floor to another.
Furniture Moving In Your Existing Home: Using Movers
Many people don't realize that moving services like these exist until they need them. Moving furniture within your home or on your property can be challenging for a variety of reasons, and it may be necessary for you to hire a moving company. Although we refer to the service as a "Furniture Move" internally, there are many different ways to describe it.
Additionally, other terms for similar relocating services include: moving within your home, moving within your building, shifting on-site, and moving from one room to another. How might you need such services? The following situations indicate when a furniture move or on-site move would be useful.
Moves From Apartment To Apartment
Need help with moving one apartment to another apartment? Changing apartments within a building or apartment complex is also very common. You currently live on the 6th floor, but you want to move to an apartment on the 19th floor. If you are moving from one apartment in 'Building A' to another apartment in 'Building B,' you can do so next door.
Both examples do not require a moving truck, so they do not require an entire moving company. Rather than moving your items between apartments, make use of our specialized moving services in Rockville.
One-Item Movements
Your storage unit, I mean almirah, is on the second floor and too heavy for you to move alone, so you'd like to get rid of it. When you have some bulky items, you also want to get rid of them. We're happy to help.
New Furniture
You probably need to throw away your old furniture after purchasing new furniture. A donation team pick-up service usually requires the items to be outside or accessible from the ground level. Basically, furniture delivery services may also not bring them into your home. The furniture may have to be left on the outside of the home or ground floor on many occasions. The new furniture can then be placed in the appropriate rooms, and we can be done.
Organizing & Rearranging
Do you need furniture moved from one room to another? Maybe even within one room? It's no problem! It is our job to move furniture wherever it is needed. Have you ever wanted to move the family room sofa from the living room? Can you swap one bedroom suite for another? Regardless of your situation, our movers can help with furniture organization, rearranging, and more around your home.
Projects of Renovation
Installing carpet or flooring? Are you painting your home? Furniture typically isn't moved by home improvement companies, so cleaning the rooms when they are being renovated will be necessary. Many people hire movers to move their belongings while they are carrying out work on their homes to different rooms, storage containers, garages, etc. Then our movers will return everything to its original place after the work is completed.
Move Of Long Distance Furniture
Do you need to shift your valuable furniture out of state? Our long distance Rockville Movers can also help you with out-of-state and cross-country moves. Providing interstate moving services in the United States and overseas as well, we are a fully-licensed interstate moving company.
Office Furniture
Do you have lots of corporate furniture? Our DMV Moving & Storage will move all your office furniture safely and efficiently, whether they are oversized conference tables or rows of desks, chairs, and cubicles. Our DMV-based moving crews can make your commercial relocation a breeze, whether you're moving to a larger office or storing old furniture in storage.
Vintage And Antique Furniture
When moving older items, such as vintage finds or family heirlooms, you must take extra care. These unique and irreplaceable objects often hold sentimental value and may even be irreplaceable. Packing and creating antique furniture for maximum protection during transit is a painstaking task. Hopefully, you will be able to enjoy these cherished pieces for many years to come.
Staging Of Homes
You may decide to stage your home if you are planning to sell it. Then it's likely you'll need to move furniture and boxes around to different rooms in your garage, home, or pod. In this situation local movers in Rockville MD here to help you.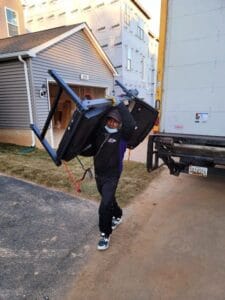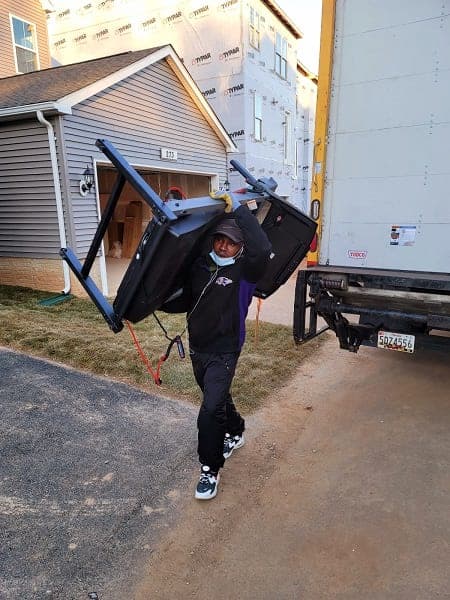 Eviction Clean Up
After everything has been moved out of the house, you can now evict your tenant. Our movers will transfer you to the curb or to a dumpster.
Heavy Lifting
Are you moving bulky or heavy furniture? How about your piano? Sometimes this type of furniture may be a headache for you. Don't worry — we'll move those for you.
See Our Other Post : Best Antique Furniture Movers Near Me Rockville MD
Moving Furniture Up And Down Stairs
No matter where you need your furniture moved, it can be up stairs to down stairs OR down stairs to up stairs. Our professional movers can handle it whatever you want.
Hiring A Mover For Heavy Lifting Can Be Beneficial
You can free up your time and focus on staying calm during a big move by hiring movers to carry your heavy furniture and other items from room to room.
Experienced movers can lift belongings you cannot, and they can also supply the materials and know-how that make sure your valuables arrive in good condition during transit.
Furthermore, they will be able to complete your project much faster than you could do on your own.
It's not uncommon for people to spend as much as $600 on movers to move bulky, particularly heavy, and irregularly shaped items within a single home.
Several moving companies, such as our heavy and bulky movers in Rockville, MD, will have minimum charges.
Hence, if you're only planning on moving one piece of furniture, you might be better off waiting until you have two to three to move since two to three at the minimum rate might be just as expensive as one separately.
Furniture Moving In The Home
The best place for moving furniture is if you want to do it within your own home, on your property, or between two locations that are very close to each other. For this type of moving service, our movers make it easy to find and compare local furniture movers.
1. Existing Home Movers
Furniture and heavy objects can be moved within your current home with our help.
2. Same Building Movers
Changing apartments within a building isn't as straightforward as it seems. Hire movers instead of going through the hassle.
3. Same Complex Movers
Generally, if you are moving from one apartment or townhouse to another in the same apartment complex, you don't need a moving truck. It would be easier to hire movers to move everything for you.
Is It Worth Hiring Furniture Movers?
You can find local furniture movers to move a single piece of furniture or an entire home on our moving company. If your existing home or apartment has furniture in need of moving, our movers can assist with moving it between apartments or up and down stairs as well. Can you help load or unload your furniture? Of course, residential and commercial moving companies in Rockville can help you out.
Loading & Unloading Help
Do you need to load and unload furniture from a moving truck or storage container? That's what we do, too. If you have awkward or heavy furniture, we can handle it, also.
Exclusive Wrapping
A professional mover has all the necessary equipment for furniture wrapping and unwrapping perfectly. So it's safe to hire a moving expert team instead of doing it yourself.
New Furniture
When do you purchase new furniture and want to move your home? Furniture delivered to your home, but there is no one to move it in? That's okay. In this situation, we can assist too.
Home Organization
No matter what you need help with, whether it's clearing your home, staging it, or moving furniture to/from the attic or garage, we're here to help.
Protect Furniture
Professional movers can protect your valuable furniture. If furniture corners are at risk, cover the corners with a sheet of corrugated cardboard, then seal the cardboard with shrink wrap to keep it fixed to the furniture piece. While the furniture gets moved and tossed around in the moving truck's general direction, the corners of your furniture are rather vulnerable to damage.
Pro Tips
When looking for moving labor on-site or in existing homes, make sure to do your research thoroughly. You might end up losing out on a low price by being dissatisfied with the work provided, paying hidden fees, or being unreliable and dishonest. Luckily, our Rockville furniture movers can be found, compared, and hired. Consider hiring a furniture moving company when choosing your moving budget. The price is a bit higher, but it is worth it!
Frequently Asked Questions
Q. What is the cost of moving your furniture?
Ans : The lowest rate for furniture movers is between $88 and $100. Prices can go up to $400-$500.
Q. Are movers available to move just one item?
Ans : A single item can be moved with movers. It takes less than five minutes to book furniture movers near me, whether you have one item to move or several.
Q. Do you have any help available to move furniture in my house?
Ans : Yes. Movers are able to move your furniture even if it is up stairs and down stairs within your existing home.
Q. How can I move heavy furniture easily?
Ans : An appliance dolly, a hand truck, or a 4-wheel dolly might be appropriate. A hand truck will be most effective if you have to move heavy furniture upstairs or downstairs.
Q. Is carpet suitable for sliders?
Ans : You can use these exercise sliders on many surfaces, such as hardwood, carpet, tile, and even the gym floor, because of the dual-sided disc design. This portable core workout equipment is perfect for building abdominal strength anywhere.
Final Thoughts
What if your couch is an L-shape, but your door is not? Really want to hire someone to move this kind of furniture or more? Our Moving Company in Rockville MD provides professional and affordable furniture moving and assembly/disassembly services. We can provide you with cross country moving services, so why suffer through plastics, boxes, and lifting when we can provide these services instead? Without hesitation you can contact our experts any moment. One click is a step away from us.
See Our Other Related Posts :