Planning is the key to success, as you've probably heard countless times. You have possibly experienced this personally as well, especially with regards to challenging endeavors, important events, and tough projects. As a result, sometimes we need to go very urgently
Do you need the same day moving company near me in a hurry? How about a last-minute move? It's nothing to worry about. Don't feel alone! Many Americans are faced with moving emergencies every month. Fortunately, DMV Movers LLC can assist! Whatever your moving needs are, we can help you meet your fast-approaching moving deadline when you need a local or long-distance moving company.
Please complete the quote form below to get help with your move TODAY! To get help with an emergency move, feel free to contact a specialized last minute moving company.
WE CAME, WE SAW, WE MOVED
Same-Day Movers: How To Find Them
In some cases, you may not even have weeks (let alone months!) to prepare- you may have to quit within a few days or even right now. Last-minute moves and emergency relocation are your only options in such a situation – without careful planning.
Nevertheless, if you hire experienced and trustworthy same-day movers in Rockville to assist with your move, you can still enjoy a smooth moving experience.
Emergency movers may be needed for two different reasons :
A sudden change in your life may force you to leave right away. This can happen because you may split with your partner, accept a job in a new city that begins in two days, etc ; OR
If you have scheduled a relocation for a specific day, but your hired movers did not appear, you may need same day moving services.
Depending on the specific circumstances in your case, things will be different, of course. But either way, you're still going to need movers today. If you're moving at the last minute, this is how to get a reputable company and save yourself from stress and money.
1. Identify What You Need To Move
Moving to your new home should have been planned way in advance, and you would have made an inventory of everything you intend to move. Taking time to ponder and consider is not an option – you must act quickly. It will be cheaper and easier to move if you bring less stuff with you.
If you haven't used anything for over a year and need to get rid of it soon, you can:
Suppose you want to give away something for free (or at a very low cost), post on Craigslist (or other similar sites) or Facebook (or other social media). Describe the item and your location.
Invite your friends over to pick up items your friends need or like from your unwanted equipment.
Do your part to help the community by donating or thrifting your no longer used items.
Organize a pick-up service that will collect your stuff and recycle or donate it.
Bonus tip : Take pictures of the moving belongings you're shipping to your new house if you don't have time to take an in-depth inventory. Therefore, the pictures serve as a reminder of what exact belongings you gave to the movers and as proof if any of them are lost or damaged during the moving process.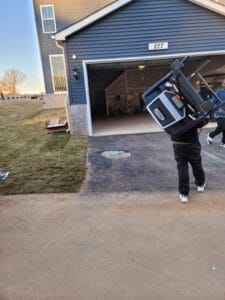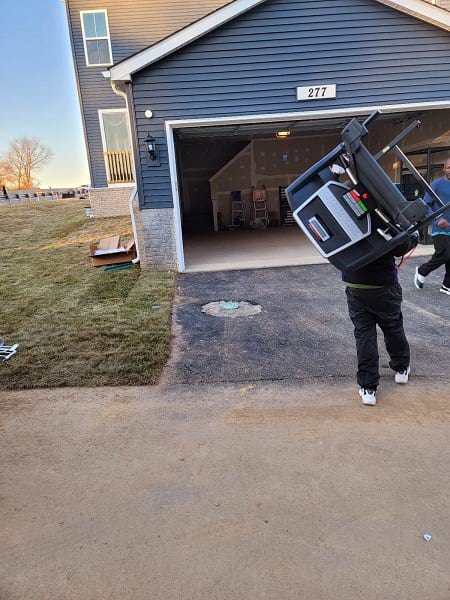 2. Choosing A Reliable Same Day Mover
The next step is to determine the best method of transporting your belongings. On the same day, your belongings will be protected effectively, loaded on the moving truck, moved, and unloaded efficiently enough to meet your time frame constraints. There are, however, not all moving companies the same. You should choose a reputable company with a lot of experience :
I. Getting emergency moving services today requires finding movers who offer short notice moving. Most moving companies are booked weeks in advance, so a same-day move is not possible. You will receive several quotes within half an hour or so if you fill out an online moving quote form with your specific moving needs – you are more likely to find the same day moving service quickly.
II. Make sure the emergency moving companies can accommodate your requirements by doing some research. Despite lacking the time for detailed research, you can still find information on the companies quite easily:
The USDOT number should be checked
Check the BBB ratings of the companies
Check out moving reviews
You can contact the FMCSA's consumer complaints and safety violation hotline
III. Look for: It is vital to make sure you are working with legitimate moving professionals who are licensed and fully insured to avoid dealing with rogue movers.
Honesty and legitimacy
Safety, efficiency, and speed
Affordability
IV. Choose one or two companies that fit your specifications and requirements and get estimates from them.
V. If the moving company has been in business for some time, ask about the liability coverage it offers.
They have appropriate equipment for moving
A team of experienced movers is available for your moving date
Extra services they consider
The price of their services
Accepted payment methods
When your items will be delivered
If you have any more questions about your move or the relocation company, please do not hesitate to ask them.
VI. Comparing services and additional conditions as well as the final price will help you make a more informed decision. A low estimate is generally a sign of moving fraud. People who end up paying more than they were originally told are often victims of "too good to be true" offers.
Bonus tip : When choosing an emergency moving service, make sure it offers full-service. In this case, full service moving is your best option because there is a lot to be done and little time to spend on it.
3. You Should Pack Your Valuables And Essentials Yourself
Regardless of your time constraints, ensure you have an essentials box that will get you through without your other possessions for some time. Also, keep valuable documents and possessions with you at all times (precious jewelry, family heirlooms, expensive electronics, etc.). Bring your valuables and first night box with you on the journey.
4. Verify Everything Twice
Be sure not to forget anything important about your old house by taking one last look. Be sure that the house is in good shape before you leave it. Final cleaning may be required after the movers leave if you do not have the time. Hire professional cleaning services to do the job after the movers leave.
You should take care of all the paperwork as soon as possible after you move into your new home if you didn't have time before your last-minute move to change your address, cancel your utilities, and do all other necessary paperwork.
If you have a limited amount of time to move, it becomes even more risky and stressful. Keeping calm, staying focused, and making the most of your time are all keys to an effective relocation.
5. How To Organize A Same Day Move?
When you scramble to get everything done during an emergency move, your palms can sweat. Rather than stressing about your to-do inventory and the clock ticking, let our Rockville Emergency company handle your relocation.
Get quotes from local, same day and specialized movers that can step in and save the day by submitting your information through our easy-to-use moving quote form. Why use our Rockville MD last minute moving service near me? Let's look at a few positive reasons.
Same-Day, Short-Distance Moves : Are you leaving by midnight? Don't fret. Just click and find all the local movers you need.
Last-Minute, Cross-Country : Moving cross-country at the last minute is not ideal. DMV movers can quickly connect you with a long distance mover if you need urgent help.
Moving Companies : If you're in a hurry to find last-minute help, finding a legitimate mover may seem impossible. So you know you're hiring a reputable mover. All Moving quotes provided by us come from licensed and insured movers.
Professional Movers : At Rockville, MD Moving, our network of movers are highly trained and experienced, capable of moving you smoothly and carefully.
Free Quotes : A great feature of our moving service is the free quotes we provide. Don't hesitate to call first for a no-obligation price quote if you are not sure what you need.
SHORT NOTICE & SAME DAY MOVING SERVICES
Home & Apartment Moves :
You can count on us to handle your home or apartment relocation in Rockville. We can also handle your pre-war apartment relocation in Washington Heights (without elevators). Throughout the years, we have helped thousands of residents get in or out of homes around the city. Therefore, we can help you pack and get ready for your move in a timely manner.
Furniture Moving :
If you're planning to take the subway or take an Uber, you can't exactly lug your dining room set. If you need your furniture delivered quickly, you need movers who have the right equipment. Our well-maintained moving trucks can easily accommodate all your home or office furniture, from couches to credenzas.
Office Movers :
Our crews and equipment are also equipped to handle commercial moves in addition to residential relocation. We can help you relocate your business fast, regardless of whether you own a small business or manage a large corporation. This allows you to keep up with your normal business operations.
Packing & Unpacking :
Boxing up all your things and getting them ready for moving takes a lot of time and effort. When you're moving at the last minute, you might feel tempted to just throw everything into trash bags and hope for the best. In that case, the items are more likely to be damaged or smashed. Let us help you instead of being stressed. To ensure your home or office is packed in time for your move, our crews will come armed with boxes and supplies. If your move ends early, we can help you unload and unpack.
Loading & Unloading :
Some Rockville residents prefer a self-moving truck or a storage container to a full-service moving company. For situations where you don't require us to drive but need a helping hand for lifting, loading, and moving, we are available to assist. In addition to packing moving trucks, our crews secure the load to ensure it stays safe during transit. If you're moving to the DMV from a long drive, we can help you unload.
How To Pack For A Last Minute Move
Every packing tip is not created equal. Several of these tips are useful for moving in general, but these hacks are designed to help you move quickly for a last-minute move.
Firstly, focus on a single room. Select the smallest, least used spaces and items.
Rather than buying new wrapping paper, wrap fragile items with clothes and linens you already own.
Don't worry about packing boxes perfectly organized. You don't have to be afraid of mixing items up in your boxes.
If you need to quickly locate something, label your moving boxes by room. Put elaborate labels on special items that you know you'll need immediately.
Clothing and shoes should be packed in suitcases and trash bags.
Cover your clothes with trash bags and hang them on hangers.
Stackable, reusable plastic bins are an excellent alternative to cardboard boxes.
There's no doubt about it; moving on the same day can be stressful. Packing and organizing in a hurry can be exhausting, but keep these tips in mind for a lighter load. In addition, once you've learned how to move at hyperspeed, all other maneuvers will probably feel effortless. It is the goal, anyway.
Looking For Short-Notice Movers? That's No Problem!
Whether you are moving locally or across the country, we can help. Regardless of the size or scope of your move, we have skilled movers who can handle it. We also offer flexible hours to accommodate your busy schedule. Rockville emergency movers provide affordable rates (including price quotes) and solutions to meet the needs of individuals with different lifestyles. If you need help, reach out to us today!
Finale
If you need the same day moving company near me, next day move, or emergency moving services, contact us now. No matter how urgent your moving needs are, the same day moving company in Rockville can assist you. Short notice moving is our specialty, and we can help you 24/7. Please feel free to reach out to our emergency movers.
Hopefully, you have already lined up movers by now if you are still reading this! Don't wait to fill out the form, and we will contact you shortly.
For Now, Though, You Must Hurry – Time Is Running Out!

See Our Other Related Blog Posts :