People often fell uncomfortable about how to pack glasses and dishes devoid of breaking? We know how much tension carrying matter this is. If you're packing and moving to another place, very important to know how to pack fragile dinner ware to make sure it moves your new home in one piece.
When it is time to pack the kitchen, plates, dishes including glasses, need to wrap them properly. Find out our special guide on how to pack feeble equipment without a sketch.
One more thing, this guide is made through best moving company in Rockville called DMV MOVERS LLC and we really appreciate your time to read our checklist. Just follow our full checklist, hopefully it'll really help you while pack glasses and dishes devoid of breaking.
Take A Glance On How To Pack Glasses And Dishes Full Checklist
Following through on moving checklist, now it's time to start packing dishes. So you Need to know how to pack dishes safely in order to end your moving day relaxing and with your entire belongings shift in home intact.
Now let's start :
Packing Paper Is the Best Packing Material than the Bubble Wrap
Be careful. Back away from the bubble wrap. Packing paper is more faster to use and flexible than bubble wrap apply. Yes, cardboard can be also your best friend instead of plastic bins, especially for fragile substance. Cell boxes and tall boxes are flexible to use; you obviously found out some items need to be packed vertically in a moving box. If you have valuable wine glasses and fine china boxes, which are double corrugated for added strength. You will need lots of packing tape as well.
Packing Materials for Fragile Items
When want to pack kitchen items, china, or any fragile for a long-distance or local move, our movers in Rockville MD recommend better using dish boxes. For glassware, fragile and fine china less than 18 inches in size, dish pack cartons are typically thicker corrugated boxes with double walls.
Well, let's see what you need for secure relocation :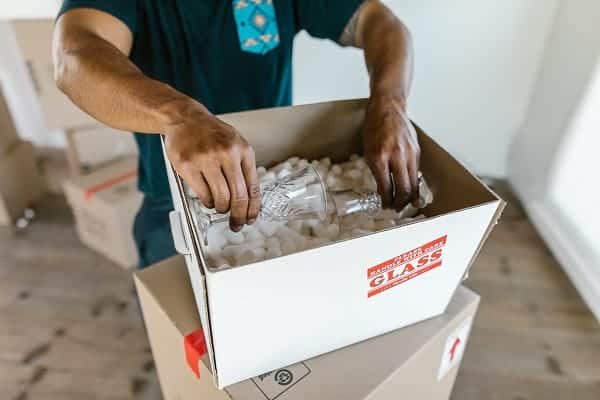 Bubble wrap
Bubble Cushioning
Dish and glass
Packers
Markers
Newspaper or
Packing paper
Styrofoam
Packing peanuts
Plastic
Furniture covers
Packing foam
Specialty
Packing kits
Packing Tape
Towels or rags
Instructions : Packing For Precious Belongings
1. Tape The Bottom Of The Box
If you tape the middle seam of the box flaps; it's not enough. There is a possibility to open up the box when transport if you don't want to bottom tape. Afterward, tape down the edges of those pieces of tape on the side of the box after covering. The seam of the flaps by going the other way ( to create a plus symbol ).
2. Make The Moving Box Easy To Move
You'll keep on eye the bottom for extra protection when you're working with a tall box. I prefer to tape temporarily surrounding beats down so that they really work all of the moving day long.
3. Add Some Padding
Put some packing paper up, about 3 or 4 inches thick, to make a cushion. It's the best way to covered and protect your fragile glassware completely.
4. Start With The Heaviest Items
The particular point, start with the larger items and heavier items first. Wrapped each one individually and adequately. Add them to the box put each platter vertically as they must stand up and be careful each one support the other. Pack them nicely and tightly as they don't change when you tremble the box. When you're done with the layer, include more paper on top of the coating and sides also. The same techniques save time in the entire process.
5. Wrap Up The Bowls
At a time, just working one bowl, Firstly, crumple a corner of the paper into the bowl, and then place the rest of the paper on top.
Note : Place the bowls' accurate moving boxes on their side fill up all empty space. Then will be finished the layer include more dishes of enough packing paper at a higher place.
6. Pack Up The Glasses
The wine glass is the most fragile and lightest, it can break easily, so this kind of item gets packed last-time. Some paper inside the glasses and wrap them like plates or bowls. Furthermore, rest crumpled up bordering the glass. You can use old towels and piece individually on several sheets.
Note : These fragile belongings only go in a moving truck with a single layer on their side.
Close Up The Box
If you shake the box, you might hear or feel movement. If not, add a few more packing paper balls. If you do this, whatever you can put more balls in the box.
Note : It will seem like plenty of crumpled paper, right? Surely it is! You should be renewable in your local area, or offer anyone else to utilize your supplies for their upcoming relocation.
Important NOTE : Before starting packing on own, try to manage a estimate from a best professional moving company for last minute packing help.
A Few Other Pointers For Packing Up Your Kitchen
1. Take Safety Measure When Wrapped Knives
All your knives should be wrapped together with tape on the pointy end, so you know which knife is the top. When you reach into the box, pack the pointy ends down to avoid slashing yourself.
2. Wrap Up Your Pantry Equipment
We all know oil, vinegar almost leakages items. Tap and carefully pack around the plastic wrap or dish towels and bath towels moreover. Tape the top of your salt; drinks any all the opened pantry goods also.
3. Pack Up Pots And Pans, Additionally
You may think your pots and pans just go in a dish box and reach your new home ideally but the reality is not that; pans and pots also need the best packing up so they don't get any scratches during the relocation.
Have valuable picture frames or breakable items? Or pricey lamp shades or gently stuff? These household items need secure original packaging services.
Note : Using the box vertically, use cleaning supplies, and fill all the empty spaces in the box.
It's likely you'll be picking up broken glassware or electronics when moving home or organizing your office. Materials that provide protection for fragile items are required protect especially vulnerable areas during transportation by cushioning to breaking or cracking.
If you're looking for professional movers to help you with your long distance moving or local moving and packing services, look no further, call us. If you need more info about how to pack glasses and dishes devoid of breaking – call our moving company support team.
Enjoy your Packing Time now.
See Our Related Other Blog Posts :