Can't figure out how to move your hot tub? One thing's for sure: moving your hot tub won't be an easy feat, whether you're moving it to a new home or simply relocating it to the backyard. The good news is that if you plan right and have the right supplies, it is possible to do.
Choosing a professional moving company is an excellent idea if you can afford their services. Then you probably search for a cheap hot tub moving service near me in Rockville if hiring moving professionals is not in your budget. Yes, our Rockville affordable moving company is here to support you.
Generally, a hot tub's empty weight is between 500 and 1,000 pounds. Professionals are best to handle the job, but if you've got a strong group of friends and a strong back, you can do it yourself.
Find out how you can move a hot tub if you're up for the challenge. Here's how to transfer a hot tub successfully through experts' easy steps and enjoy a relaxing soak in your new backyard.
A Hot Tub Move Requires The Following Equipment :
It's not necessary to have many supplies to move a hot tub, but there are some that are essential. Make sure you have:
A moving truck that is the right size
Three or two strong friends
You will need two 2-by-4s
Two dollies for moving furniture
Straps for moving
Hose for gardens
A wet-dry vacuum
Top 12 Steps: The Best Way To Move Your Hot Tub
Moving a hot tub by yourself is never a good idea without a detailed, well-planned strategy. Success depends on preparation. Here are the steps you need to follow.
Step 1: Get The Right Tools:
A moving strap, two 2-by-4s, and two furniture dollies and more equipment needed. Don't forget the necessary materials and supplies needed to drain, clean, and reconnect your hot tub.
Step 2: Rent A Truck That's Big Enough:
Different shapes and sizes of hot tubs are available. Make sure your tub will fit into your truck by measuring it on all sides.
Step 3: Ensure A Direct Path To The Truck:
The most direct route to take when moving a heavy and bulky item like a hot tub is crucial. Making sure no obstructions stand in the way is equally important. You should also consider the route the hot tub will take to reach its new home.
Step 4: Shut Off The Power:
Remove the circuit breaker from the hot tub. Take out the power cord from your plug-in model. Hardwired things need to be disconnected by an electrician.
Step 5: Drain Your Hot Tub:
Drain the water by installing a garden hose and opening the drainage valve. Using a submersible pump is an option if you are in a hurry.
Step 6: Remove Any Remaining Water:
You can remove all puddles remaining in the hot tub with a wet-dry vacuum. If there is any water coming from the jets, switch the machine to push mode to clear the pipes.
Step 7: Wash The Hot Tub:
Although it's not necessary, this is the perfect time to clean and repair any scratches or dents in your hot tub.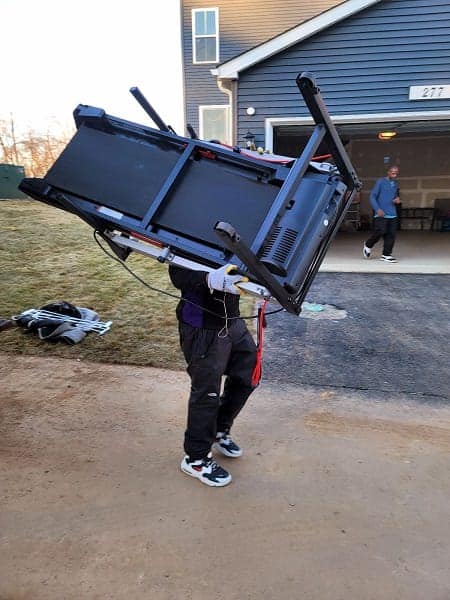 Step 8: Organize Your Supplies:
Pack everything that can be easily removed from the tub individually. Depending on the model, it may consist of the pump, heater, and other accessories as well.
Step 9: Recruit Your Helpers:
The hot tub has been moved, and you have a plan in place, so now you need to assemble the team. A minimum of 2 or 3 strong friends will be needed in order to transport the hot tub.
Step 10: Use 2-By-4s As Leverage:
Position a 2-by-4 underneath the hot tub by tilting it to one side with your team. Likewise, do the same for the opposite side.
Step 11: Set Up Furniture Dollies:
The hot tub should be placed on a furniture dolly positioned between two pieces of 2-by-4 wood on either side and strapped down with moving straps. The truck ramp should be secure and set up.
Step 12: Moving The Hot Tub:
Working together, carefully transfer the hot tub to the truck. Secure it inside the truck with a furniture blanket. Once you reach your new home, reverse the process.
How To Find The Best Hot Tub Moving Company For Yourself
Despite your decision not to shift your spa yourself, the work isn't over yet. Trusting your precious hot tub to a reputable moving company is crucial. The first result that appears in a search for 'hot tub movers' may appear to be the simplest, but that isn't the case.
That's an excellent way to ensure you're paying the highest possible rate for low quality work! You can find the same process regardless of whether you are searching for long distance movers or a hot tub relocation company. Make sure to give yourself plenty of time to conduct all the necessary research!
Finding the best moving company in Rockville for moving hot tubs – and a good moving company for long-distance moves. It is a good idea to collect the names of several moving companies in your area to start. Perform a thorough search of each, reading as many pages of results as possible so as to understand their web presence.
Afterward, make your way to the city! You should contact a few past clients of any moving company you are considering. Get their opinion about the relocation company in question, as well as whether they can refer you to someone.
Are you ready for the final step? Based on everything you know, choose a few movers from your list. Once you've gathered your information, contact them directly and ask about their services. If you simply ask for a discount, you may be surprised how much you can save!
How To Prepare Your Hot Tub For A Safe Relocation
However, you won't just have to empty the spa shell in order to move the water; you'll also need to drain the pipes and pumps. Generally, hot tub water can be recycled; it's not difficult to do in most cases.
For A Thorough Spa Drain, Follow These Steps:
The power supply should be disconnected. You can turn off the circuit breaker by finding it inside the circuit box. Spa service representatives or electricians will need to disconnect hot tubs directly connected to the power supply.
Connect the drain valve with a hose. Dispose of the cover on the drain valve. The garden hose should now be connected to one end of the valve and to the other end of the drain.
Drain the spa by opening the drain valve. It might take a while for the water to drain by itself if you leave it to drain on its own. Drain the water in 10 to 15 minutes by using a submersible water pump.
Clean up the remaining water with a wet-dry vacuum. A small amount of water will remain in the pipes and pumps, even if you are using a submersible pump. After removing puddles, turn the vacuum into push mode.
The spa should be cleaned. You may want to clean and repair any surface scratches on the spa once all the water has been removed.
Frequently Asked Questions
Q. What is the cost of hiring hot tub movers?
Ans : A hot tub mover charges according to the complexity of the move, like all movers. Factors that can impact your prices include the distance of your move. Any possible obstacles in your path, whether you are moving locally or across state lines. Depending on the size and weight of the spa, if it must go upstairs or downstairs, etc.
Q. How much does a hot tub weight?
Ans : It doesn't have a standard weight. An empty 2 or 3 person hot tub usually weighs about 500 pounds, and when full, it weighs approximately 3,000 pounds. Typically, a 6-person model weighs between 1000 and 6000 pounds when empty and full.
Q. How do I drain my hot tub for moving?
Ans : The majority of the water will slowly drain out if a garden hose is attached to the drain. With a submersible pump, draining can be accomplished in just 10 or 15 minutes. In order to remove the remaining water and vacuum up the leftover puddles, you will need to use a wet-dry vacuum.
Q. Will a deck support The hot tub?
Ans : Adding a hot tub to your deck is definitely doable, and you may already have one set up. Any hot tub can be placed on a deck designed to support more than 100 pounds per square meter.
Q. How much does it cost to hire someone to move a hot tub?
Ans : Moving a hot tub can cost anywhere from $175 to $650, but on average, it costs $375. Moving your hot tub safely requires expertise, specialized equipment, trucks, and people power. Professional hot tub movers have all these resources. From the dealer, you can choose to pick up your new hot tub and transport it to your home or place of business.
The Bottom Line
It is challenging to work with hot tubs in the end. Besides being unwieldy, heavy, and bulky, they're expensive too. As a result, you've to contact the best hot tub moving service near me. Therefore, whether you hire out or DIY, you still have a big investment to make.
The same goes for moving plants, relocating large items such as a piano, or finding a way to deal with a complicated move as a senior. Taking extra care will make sure that you are able to complete the task without causing harm to your possessions or putting yourself and others in harm's way. Prepare for your hot tub move properly or schedule your DIY move in advance, and you should be able to enjoy your hot tub for a long time. As an alternative, you may contact DMV Movers LLC for a hassle free move, the best moving company in Rockville.
See Our Related Other Blog Posts :