Selecting the right residential moving company is not an easy task. The first time you use a moving company can be a bit overwhelming because of 2 major factors:
1. You don't know what to look for, and
2. You aren't sure what to hope for from them.
Whether you're moving long distances or locally, if you have a number of particular possessions that require expert packing and moving, thus you've to select the best one (DMV Residential movers are here to help). Additionally, if you know your friends are too busy (or don't want to), help you move heavy objects. When you're moving house, then you'll definitely want to know how to find the best movers.
As a result, you start to be concerned that you won't be able to find a suitable moving company. Here are 13 steps for finding a trustworthy residential moving services in Rockville or, even better one – the steps to find the best movers out there.
Are You Searching For the Best Residential Movers Near Me in Rockville?
Don't complicate moving more than it has to be. You can rely on us to provide you with a hassle-free move. In terms of residential relocations like Intrastate and Interstate Residential moves, we've seen and handled it all accurately.
Let's talk about some things that make a professional mover good before we explain how to choose the best moving company for your next move. Find out what sets the best moving companies apart from the average ones.
Experience is what sets the best moving companies apart.
The best moving companies offer a wide range of options and services that will fit your budget and needs.
Offer a variety of additional relocation services to complete the job safely, competently, and quickly.
A well-trained staff that knows how to pack and use various moving equipment skills and has good knowledge of the moving process.
Clearly and satisfactorily answer all of your questions regarding the home moving arrangement.
Act professionally, which includes being polite, well-mannered, and respectful of client property when handling it.
The best Residential mover must be polite, knowledgeable and professional behavior as well.
How to Find Good Residential Movers: 13 Steps
In preparation for your home move, you will need to answer one question very early about choosing a moving company that will meet more of the above quality-service criteria. Here are the 13 steps to finding a good residential moving company in Rockville and then hiring them for their quality relocation services for your residential move to run as smoothly and stress-free as possible.
STEP: 1
Ask Friends for Recommendations :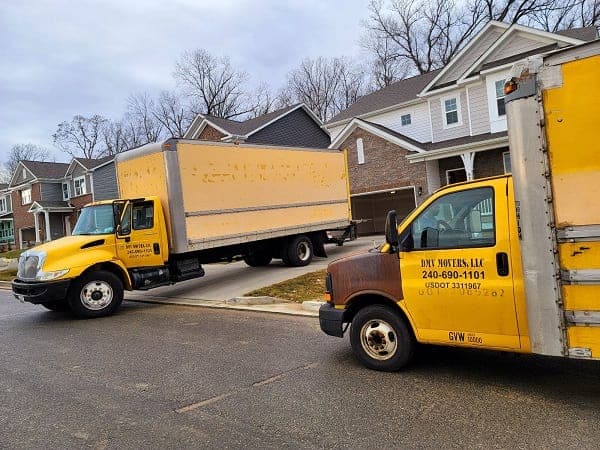 If you take this vital step, you may save yourself a lot of time and energy when searching for a reputable moving company. Get recommendations from friends, family members, neighbors, and co-workers you trust who may have recently moved. Trusted people are usually the best sources of recommendations when you're confused.
STEP: 2
Get a Written In-Home Estimate :
In general, you need to gather estimates from several moving companies in order to compare their prices. Getting estimates over the phone may seem more accessible, but you cannot get an accurate quote without seeing your household goods and furniture. The cost of local moves is typically determined by the hour, but the price of long-distance moves is determined by both weight and distance.
STEP: 3
Check Out Moving Reviews :
Moving companies will most likely contact you without any information about them. Change this by visiting reputable movers' review websites and reading reviews from other people on the moving company you're considering. Reviews from customers can provide you with a good idea of who to hire. It's important to look at the company's good and bad services before hiring residential movers.
STEP: 4
Verify the Reputation of the Movers :
To confirm the reputation of the moving companies you consider as potential partners, you can visit the website of the American Moving and Storage Association (AMSA). In addition, you can contact the Better Business Bureau (BBB) to see if any complaints have been filed against the companies. I think this process will confirm which one to choose and which is not.
STEP: 5
Verify Movers' Legal Status :
Which moving company is trustworthy? A valid USDOT number must be displayed by Residential movers as proof of its reliability. USDOT numbers are assigned by the U.S. Transportation Department so be sure to look at their website before choosing a household moving company.
STEP: 6
A Home Survey is a Must :
Before you hire a relocation company, you can request a home survey. After an on-site inspection of your home, you should ask the companies for an individual cost estimate. Please do not agree to estimate your moving costs by telephone or email. In order to get an accurate moving quote, you must have moving experts come to your home.
STEP: 7
Don't Ignore Red Flags :
Keep an eye out for red flags during the estimate. A reputable moving company in Rockville, for example, won't require a cash deposit first. It might not be a legit business if the mover seems desperate to get paid upfront. You should also note whether the movers seem professional or unprofessional during the estimate. Try to find another company if they are late, seem unconfident, or can't answer all your questions. Don't hire movers who use rented moving vans. Professional moving companies obviously have their own equipment.
STEP: 8
Verify Moving Companies Address :
It is necessary for a genuine residential moving company to have a physical address. Check the mover's website or business card and then online or through the phone book for the listed Address. Be sure to include the relocation company's Address and registration under the company's name. Residential addresses should be avoided.
STEP: 9
Hire Residential Local Movers :
Hiring a local household moving company is the best way to avoid being scammed into dealing with an unscrupulous mover who operates solely through the internet. Not only that, there are opportunities to physically visit their relocation office and check out their necessary equipment.
STEP: 10
Be Wary of Large Deposit Requirements :
An estimate of the moving cost shouldn't be more than 20 percent of the deposit required by a moving company. Many will not charge you until your belongings have been delivered. In the event that a mover holds your belongings hostage in an attempt to try to get you to pay more, you may want to contact the police for assistance.
STEP: 11
Choose a Team that Can Meet Your Needs :
In order to determine what needs to be moved, the estimator must walk through your entire property. Be sure you discuss any large or unusual items with the company's representative when they arrived to provide you with an estimate. This will ensure the company has the necessary previous experience and equipment to move those valuable items safely. A few items that could be discussed are pianos, pool tables, hot tubs, large aquariums, antiques, etc.
STEP: 12
Carefully Read their Paperwork :
You should carefully read any paperwork you receive from the movers before you sign it. It is essential that you carefully read the Bill of Lading, which is a document that establishes your contract with the residential relocation company. You should ask the movers for clarification whenever you are confused about a condition and don't stop until you are clear about every detail.
STEP: 13
Ask Your Moving Company These Crucial Questions :
To make an informed decision, ask a few simple questions when selecting a professional Residential moving company near me. It is in your best interest to make sure that your valuable possessions are handled with care during the move.
Below are the 5 most important questions you should ask movers :
What is your experience as a moving company?
Are you able to ensure that the moving crew dealing with my belongings is an experienced packing and moving staff and not a temporary employee?
Is there equipment available to guarantee my safety?
How do you avoid damaging my belongings?
How do you handle broken or missing items?
Summary
I hope the above mentioned top 13 tips must help you select the right residential moving company near you. As you research each company, it can be challenging to get all the information you need to be successful. Here are a few recommendations for the best moving companies that our review team has put together to assist you. Any mover should consider these factors, regardless of whether they are moving locally or long distance. With our tips and tricks, we've outlined a few of the most important things to consider when you're looking for a residential mover.
See Our Other Related Blog Posts :