Moving is a special part of life. But, unfortunately, moving is notoriously stressful, even for the most organized individuals, because it can take its toll on even the best-planned.
Here i discuss more effective 13 tips and tricks for residential moving services in rockville, which help you to get rid from worth experiences of residential moving.
Although moving isn't necessarily a fun experience, some things can be done to make it go more smoothly. For example, you can use these tips to pack and unpack faster, reduce the amount of time it takes, and generally reduce the level of stress.
Let's Check Out 13 Tips And Tricks For Residential Moving
I'm describing in details this 13 tips and tricks for residential moving. Try to follow it when you make decision to move a new location. So let's start :
1. Get organized Early :
Organizing yourself as early as possible can help cut down on your stress. Most residential moves take place between 30 and 60 days, so you have time to get organized and make a plan.
2. Find Out Your Move Strategy :
A crucial element of the planning process is determining how you're going to get from A to B. Do you intend to hire a reliable local moving company in Rockville, or will you ask your friends to help you move?
3. Make a Checklist :
Even if it seems tedious, a moving checklist is effective. You can add to your to-do list by writing it or typing it to commit it to memory, so you won't need to waste time trying to recall what you have to do. This is especially useful if you're moving long-distance and locally as well. If you want to move apartment belongings, then you need to take decision about apartment moving services in Rockville too.
4. Great Opportunity to Purge :
Make Use of This Opportunity to Purge. Don't leave items you no longer use behind. Consider having a yard sale or donating items to a local charity. Including large furniture items on Craigslist, recycling old magazines and catalogs, and shredding old documents are good practices.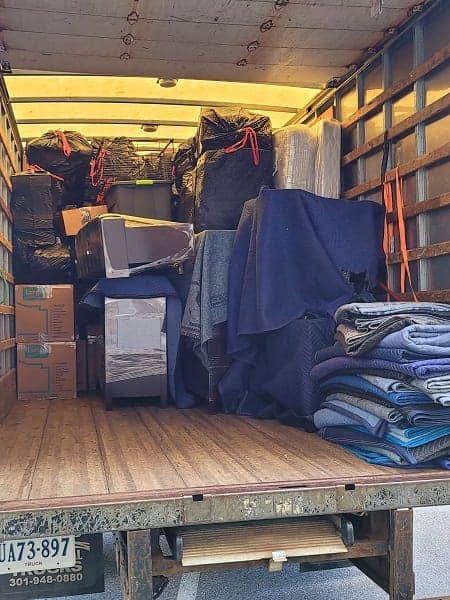 5. Set Your Budget :
It can be expensive especially when you're moving; however, you can save money by setting a budget beforehand. You can determine whether you can afford a full-service move or if you must do it yourself based on your budget. You will be capable to stay within your actual budget by setting a realistic moving budget. Keep in mind, before moving piano must ask proper estimate about piano moving services in Rockville.
6. Put Together a Packing Kit :
Create a system for staying organized when you have a team helping you pack up. Give each person a pen, a black marker, and packing materials, and let them tackle one area of the room. This process will help you save time and help get everything done before the relocation day.
7. Pack up an Essentials Bag :
Putting all together your basics bag will help you get throughout the chaos of packing day. What items you need during the move and after you've arrived at your new home, only pack that equipment is essential bag and You should include :
· Changes of clothes Medications
· Basic toiletries Chargers
· Important documents
· Anything important items you may need for the first days in your new house.
8. Be ready for your helper :
If you are having friends move you or hiring professional residential movers in Rockville for moves, you want to be prepared when they show up at your door. Likewise, if you are hiring a moving company, be prepared and packed before they arrive. You will eventually end up spending more money and more time searching for boxes if you are rushing about.
9. Protect your valuable :
When it is time to relocate, you need to store your valuable equipment safely on moving day. Use a moving company that offers additional insurance coverage for any valuables or breakables you're relocating. In addition, you should back up important files if you're moving a computer in case something goes wrong during the move.
10. Get packing Materials :
It's time to get a grip on how many items you have to move and begin to prepare moving boxes and wraping equipment. When packing day comes around, you don't like to run out and buy more essentials. Moving boxes are more cost-effective than you think, and fewer boxes will cause more stress. Unused packing items can be sold to someone else or donated who is preparing for their move. However, Packing calculators can help you estimate how much boxes and labor you will need to pack. For piano moving follow the piano moving tips very carefully. Sometimes, some household movers in Rockville also doing the packing things free for clients satisfaction.
11. Team up Essential Services :
The process of transferring utility bills, scheduling shut-off services, and Setting mail forwarding serve; should be thoroughly understood when moving to a new place. Immediately after moving in, you should arrange for the installation of your phone line, cable, and the Internet as well as.
12. Take a Picture Before Unplug:
If you move your entertainment system, take pictures of the wiring on the back so that you remember how to arrange it. Take pictures of anything you need to disassemble for moving as well. Additionally, it's wise to take pictures of anything fragile or valuable you want to ensure it doesn't get lost or damaged while being transported. Finally, photos will be valuable in the event you have an insurance claim.
13. Treat your Movers :
You should tip your movers when you enlist a professional moving company in Maryland. You may have chosen not to hire professionals and asked your friends and family for help. A nice cold beverage will make your moving crew feel more comfortable on a hot day. Give a nice testimonial about your movers' workmanship to the company manager if their movers have performed well.
Conclusion
The stress of a residential move is not fun, but with a little advance planning and organization, you can minimize some of the hassles. Stay organized and get a head start to ensure you make it through your next move smoothly. Looking for simple ways to make your upcoming residential move as smooth as possible? Contact DMV MOVERS LLC today.
See Our Other Related Blog Posts :