Perhaps you're looking for the best movers just loading your truck. If you ask, Can I Hire Movers Just To Load A Truck? YES, that's the first and most straightforward answer. If you need only movers for loading or unloading and only for moving, then you can hire Rockville movers.
In addition, if all you need help with is loading or unloading the moving truck, hiring professionals may provide you with many benefits. A DIY move is much cheaper than a full-service move, so it's understandable why do-it-yourself relocations continue to grow across America.
A full-service company would offer you the least hassle, but the price could exceed $10,000 for long-distance moves. Moving locally can easily cost thousands of dollars when you hire a full-service mover, particularly if you have a large house.
During a relocation, it is not always easy to load everything into moving equipment. In case you can't (or don't wish) load everything, other options are available. Read on to find out more about hiring the right moving crews for just loading the truck.
Decide The Size & Time Of Crews
Your first step should be to determine how much and how long of help you need. In large houses, 3 people are usually most efficient since 2 can transport the belongings to the truck, and the 3rd mover can organize everything. For smaller homes, fewer workers suffice generally.
Following are brief general guidelines on the size of crews and how long it takes them to load and unload:
| | | | | |
| --- | --- | --- | --- | --- |
| Home Size | Total ReloCubes | Moving Trailer Square Feet | Number Of Crew | Service Hours |
| Studio Apartment: | 1 Cube | 5 square feet | 2 movers | 2 hours |
| 1-Bedroom Apartment: | 1-2 Cubes | 6 square feet | 2 movers | 3 hours |
| 2-Bedroom Apartment: | 2 Cubes | 7 square feet | 2 movers | 4 hours |
| 2-Bedroom Home: | 2-3 Cubes | 13 square feet | 3 movers | 5 hours |
| Small 3-Bedroom Home: | 3 Cubes | 15 square feet | 3 movers | 5 hours |
| Large 3-Bedroom Home: | 4 Cubes | 17 square feet | 3 movers | 6 hours |
| 4-Bedroom Home: | 5-6 Cubes | 23 square feet | 4 movers | 5 hours |
| 5-Bedroom Home: | 6-7 Cubes | 35 square feet | 4 movers | 6 hours |
Price Comparison Table
By enlisting the help of family or friends, you might be able to organize a smaller relocation crew that will only handle the delicate and heavy items.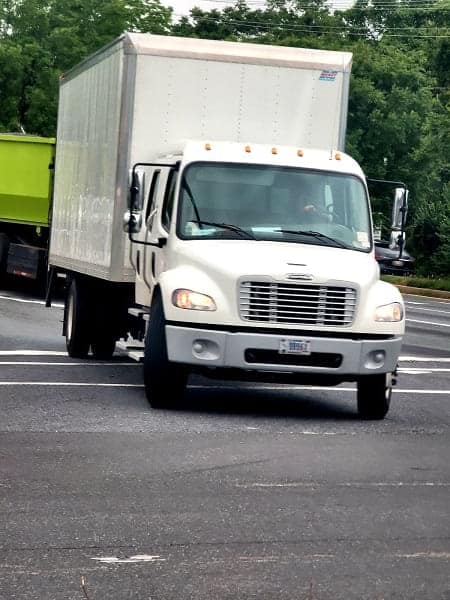 Using Movers To Load Your Truck: 8 Reasons To Do So
For most people, moving is both physically & mentally exhausting. Regardless of whether you're in top physical condition, the work will likely prove more challenging than you expected.
Moving help is important for more than just heavy lifting, including loading your vehicle and storage container. A trained, professional mover can only load freight trailers, rental trucks, or moving containers because this requires experience.
1. Movers Are Properly Trained
Putting together a storage container or truck is like a gigantic puzzle, with the pieces being your boxes & furniture. As they load, the movers must maximize the available space in order to ensure everything fits. A successful load depends on training & experience, which only a professional mover can offer.
2. Protect Your Belongings From Damage
How do you load and pack your items in order to prevent damage to your items? Yes, our cheap Rockville moving company can do that. It is crucial that the movers properly wrap and pad furniture, arranging the furniture and boxes in tiers. And most importantly, you should know how items should be stacked.
3. The Mover Is Efficient
Loading your truck or container with a professional moving company will likely take less time than loading it yourself or with your friends. Movers MD know what they're doing and don't require direction. In addition, professional movers use the necessary moving equipment, such as dolly trolleys, to make the loading process more efficient.
4. Movers Undergo Conditioning
No matter how much you exercise or run, moving household goods won't be easy for you. Exercise is entirely different from moving, and you can only train to move by moving other people day after day. Our moving teams load & unload trucks & containers regularly, so they know how to handle loading accurately.
5. Protect Yourself & Maintain Friendships
Heavy furniture & bulky items aren't fun to lift, even when they aren't your belongings. Hire moving help to save yourself from back-breaking work. You can feel confident that your friends won't come up with any excuses for not being able to help you to load and move.
6. Movers Work Fast
A professional mover knows how to load & unload a moving truck quickly. Basically, their bread & butter is doing this. Due to this, they are in a better position to perform the job quickly since they have prior experience.
7. Space Utilization By Movers
In order to make the most of the moving truck's backspace, you should hire a professional moving company to load for you. With their moving experience, the movers will know how to stack and load your belongings properly. Alternatively, they can use as much of your truck's cargo area as possible to get all your items inside.
8. Providing Cost-Effective Solutions
Are you only looking for help loading moving trucks? When you have covered all of the other aspects of your relocation, using only professional movers may reduce the total cost of moving. For parts of your move that require assistance, we are happy to help (such as loading, moving, unloading, packing, and unpacking).
A Guide To Hiring Moving Help For Loading
Would you like to hire loading assistants? You are not to blame; we presented our case pretty well. There are many moving companies that offer movers to load, but none come close to DMV Movers LLC. Having earned the BBB Accreditation, our company prides itself on honesty & integrity.
Is It Worth Hiring Movers To Unload Your Truck?
If you decide to hire moving crews to load/unload your trucks, you must fill out an estimate form. To summarize, having movers load a truck or a container can be a good idea. The moving company you choose for the job will help you set the date and time for your move.
If you find a trustworthy relocation company, hiring movers to load and unload will be a breeze. The following benefits can be realized when hiring a moving company to load a truck or pod:
When Extremely Problematic To Load
First, you might think that someone else could lift that heavy piece of furniture. Hence, you won't have to lift anything heavy, and you should hire a professional loading and moving company.
Your Belongings Need To Be Safe
Having movers load your truck ensures a safe and secure move for your belongings. Unprofessional workers might cause furniture to break or things to lose their shape. Moving companies also arrange and stack your items on the moving truck to ensure their safety during transit.
Experts Move Faster
They are well-versed in loading and unloading, having done it many times, as opposed to you. The reason for this is the cost-effectiveness of hiring movers. These professionals can handle a move more quickly than you can.
Moving Companies Have Exceptional Skills
If you wish to save money, you can hire a truck with the appropriate size instead of hiring a large one. As a result, movers will load & unload your belongings in a way to maximize the available space, from floor to ceiling.
Professionals Should Hire
Thus, if you are wondering whether you should hire moving companies solely to load your items, we got you covered.
If you want to hire movers for your truck loading, it is important that you find a reliable company.
Be wary of moving companies who seem shady, won't provide you with an estimate, or who simply behave rudely.
You may want to ask friends and family for referrals or go online for information. Before deciding, you should explore all the options available.
FAQs
Is it possible to hire movers to just load a truck?
Definitely, in addition to offering moving services, many moving companies offer only labor rates as well. Hourly rates vary according to your location.
Are movers responsible for loading and unloading?
Typically, loading and unloading services are available in some moving companies, but not all. Whenever you hire a moving company for loading, make sure you ask about the overall cost, which includes loading & unloading.
How much will it cost to hire movers for loading trucks?
You can hire hourly labor service providers to help load and unload your belongings. Teams of movers typically charge $75 to $300 per hour. In case you have several bulky and heavy items to move, the cost of loading & unloading will likely be higher.
What is the average time it takes to unload any moving truck?
According to general standards, a 10-foot moving truck will typically take 2 people 1 – 2 hours to unload, a 16-foot moving truck will take 2.5 hours to unload, and a 26-foot moving truck will take 3.5 hours to unload.
Summary
Have you also been confused? Can I Hire Movers Just To Unload A Truck? Stay calm. Luckily, our moving company in Rockville, MD, only offer loading services to their clients as well. If you choose this labor-only option, you rent a container or truck on your own, and our movers load and unload your belongings. It will save you time and hassle, allowing you to move faster so you can save money.