A local moving company in Maryland is a proud part of the heartland of the United States. If you work with us, you can feel confident that moving home or office goes beyond just relocating.
Due to the much shorter distance between the two homes, moving within a state is always easier and cheaper than moving across the country. In spite of this, moving locally is not to be overlooked since it requires just as much planning.
In some relocation cases, careful planning may be as important as moving long distances. As a part of DMV Movers LLC, our local movers in Maryland's goal is always to lower moving rates whenever possible.
You should find these top 20 local moving tips helpful if you are moving locally. Don't miss out on our tips for a stress-free relocation. Don't let the moving day pass you by.
1. Make Sure You Have A Plan To Move Locally
If you really know for certain that you will be moving locally soon, the very first thing you should do is make a mental plan for what you want to achieve.
It's not a good idea to go by ear, especially when you're moving away for the 1st time. Rather than improvising, you should plan how you're going to move locally in advance.
Nevertheless, if time is a factor that prevents you from planning a local move, use a proper moving checklist to ensure you're guided every step of the way.
2. Choose Wisely: Movers Or DIY?
When relocating locally (within a 100-mile radius), you may have a great chance of saving money by handling the move yourself.
A DIY move is suitable when you're moving locally, but there are a few minimum requirements to follow in order for self-moving to be a success:
You have to experience moving houses previously.
Friends who will not back out at the last minute and who are always available to lend a hand.
For instance, you should not ship speciality items such as pianos or pool tables. For instance – they require unique packing techniques that only professionals can handle.
3. Compare The Prices Of Local Movers
Cross-country movers typically charge a flat rate based on various factors, including the weight of the shipment, move distance, and types of moving services. Basically, local movers charge for each hour.
Typically, you'll have to pay between $90 and $120 per hour for two movers and a truck to make a local move.
There is no doubt that the exact price will differ depending on your location (big city, state, small town, or rural area) as well as the local mover you choose.
In a local move, your in-state moving company will charge you based mostly on how much time you have.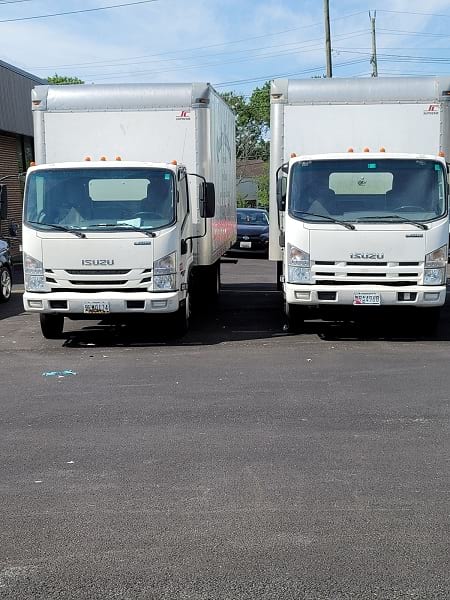 4. Obtain A Local Moving Quote
Knowing the average moving cost in a particular area is useful, but it's almost more helpful to understand the costs involved in your personal move.
You can only obtain that critical information by getting written estimates from highly-rated local movers.
Get free moving quotes from several reputable local movers to learn how much your own move will cost.
Compare the price estimates of several residential movers in Maryland to find the offer which fits your relocation budget and meets your requirements.
5. Find A Local Moving Company Near You
What is the best way to find out about local movers? Don't waste your time and money by selecting shoddy movers.
Choosing a local professional mover should be relatively straightforward with a moving cost estimate at hand.
In the first place, check to see if the final estimate includes the additional moving services which you might need.
The second is that you should do your research and compare moving companies beforehand to avoid unpleasant surprises down the road.
How should you start researching moving companies in your area? I highly recommend reading customer reviews of short-distance movers.
6. Choose Who Will Pack Your Belongings
Packing is, without a doubt, one of the most important tasks when preparing for a relocation. As you begin your preparation, answer the following question:
Are you going to pack up your possessions yourself, or will you want to hire a professional packer like our commercial moving services in MD to do it?
As with any move-related decision, each option has pros & cons regardless of which option you will take.
Packing services from professionals will ensure that your items are wrapped and boxed safely, but such services aren't inexpensive.
In contrast, most of your items can be packed up yourself, but the process will take you a long time.
7. Pack For The Local Move ASAP
If you decide that you are capable of packing without the help of professional apartment Movers in MD, then you should get started right away.
One of the best moving tips is to start packing as soon as possible.
Basically, there's a straightforward reason for the urgency – moving is the biggest time-consuming step in the moving process.
In order to ensure that you're finished packing before shipping day arrives, it is necessary to begin packaging immediately.
It's never a good idea to procrastinate when packing up to move locally.
8. Pack According To A Timeline
At first, the process of packing up your items might seem complicated because you aren't sure where to begin.
Should you start packing the kitchen first, or does it make more sense to start packing the closet first?
Also, if you have never moved locally before, you will waste a lot of time trying to decide what you should do now once you finish packing.
You simply cannot let precious time slip by while you wonder what your next step should be.
Make sure you follow a comprehensive Packing Timeline for a better understanding of the whole process.
9. Make Sure You Have The Right Packing Supplies
It is crucial that you have the appropriate packing materials if you want to pack on your own.
As expected, you should make sure you have the right kind and quantity of packing materials.
As a result, once you begin packing your house, you won't need to interrupt it.
There is no need to buy new packing supplies for all your packing supplies, particularly for cardboard boxes.
You don't have to spend a lot of money on purchasing new moving boxes if you can obtain them for free most of the time?
In addition to packing boxes, make sure you have enough bubble wrap and packing paper to protect fragile items.
Permanent markers and packing tape are also essentials.
10. Make An Inventory Of Your Home
When moving locally, how do I make an inventory of my home?
Take pictures of every part of your home to ensure that you can fully comprehend what you're dealing with.
An inventory of your home is a task that you can sometimes ignore despite the fact that it's essential. Don't forget to do this key task.
You will gain valuable insight into what household goods you own by creating a detailed home inventory.
Getting ready to move out often surprises people when they discover things they forgot about. And you may feel the same way.
Take an inventory of all the items in each room by writing them down on a sheet.
Using this inventory list, you can then decide what items you'll move to your new home and which items you'll leave behind.
11. Make A Decision About Your Furniture
You may wonder whether to move your furniture with you when moving locally.
Due to rising transportation costs, moving furniture long distances is no longer cost-effective.
Even so, if you're moving locally, it could be worth your while to transport some furniture.
Yes, moving antique furniture or furniture with sentimental value makes sense when you have them.
Alternatively, paying to have heavy furniture and oversized items hauled away.
Assembled solutions are not always worth the effort, particularly those available ready-to-assemble.
12. Create A Floor Plan For The New House
When looking at a floor plan in your new home, you can determine what items you'll need to take with you and what stuff you can leave behind.
When moving large furniture between two different homes, figuring out how the new space will be laid out is especially significant.
To find angles, create a floorplan if possible.
You might discover that some of the more oversized items you plan to move are not going to fit in the new place.
There is a possibility that their color and design will feel out of place within the decor of the place you are visiting.
13. Make Your Load Lighter
Moving within a state is also an opportunity to clear out your home in preparation for moving.
Bring only items that you will be using in the short term.
Nonetheless, the more goods you transport, the more you will have to pay for transportation.
Besides, some of them may have become broken, useless, or unsightly over time, so moving them to a new location is really not necessary.
The items you no longer need can be sold at a thrift store, given to friends, donated, or just thrown away (recycled).
14. Be Sure To Pack Safely
You must be confident about your packing skills if you decide to pack yourself. Don't worry more; our local movers MD is here.
Therefore, unless you've specialized items that need special packaging or handling, you should pack your own stuff without hiring a professional.
Packing alone is challenging, more than you might imagine, especially when it comes to safety.
Put double-sided tape on the bottom of your boxes, particularly if they are second-hand.
Throughout the packing process, use plenty of packing paper & bubble wrap.
Your breakables will survive the move to your new home if you are using these padding materials.
In order to ensure that the items in the boxes will not shift during transportation, fill any gaps with paper inside the boxes.
15. Put Together An Essentials Kit
How should essential boxes be packed? When moving, always load your essentials kit boxes last and unload them first when you reach your destination.
It's still likely that you won't have full access to your everyday items for a period of time, even though you won't be moving across the country.
At the time of delivery, they will probably already be packed and on the route.
Preparing an essentials box and keeping it with you is one of the best packing tips when moving locally.
You only need to pack up supplies that are absolutely necessary, such as important documents, prescription medicines, and personal hygiene items.
Each member of the family should have an extra set of clothes, some common hand tools, items for the children, pets, etc.
16. The Utilities Should Be Transferred
Although you're only moving a few blocks away, you will still need to do some organizing. There are several things you should plan for during the moving process.
As a first task, you should consider transferring your utilities.
Since you'll no longer use them after you leave your current location, you're leaving them behind.
Thus, contact the utilities and arrange for the services to be disconnected– electricity, water, cable TV, landline phone, gas, and more.
Also, arrange to reconnect any household utilities shortly before moving into your new residence with the utility company in the destination city or town.
17. Update Your Address
When you move locally, it's important to update your address to ensure you continue to receive your mail.
Moving to a new home or apartment means that your mail address will change as well.
Even so, if you're faced with a number of moving-related tasks, it can be easy to forget to update your USPS address before you move.
Changing your address is not difficult when moving locally. Here are a few options:
1) On the US Postal Service's official website,
2) by visiting your local post office,
3) over the telephone, and
4) By mail (obviously!).
18. Make Sure Your Car Is Packed Properly
If you are moving from one state to another with a moving radius of about 100 miles, you will almost certainly be driving yourself to your new home.
Because of this, you must pack your proper vehicle way in order to fit as many items inside it as possible and avoid endangering the short drive whatsoever.
Moving locally does not require rocket science, but it is still essential to take care when loading your own car.
To maximize the space in the interior of the car, you need to know which items you store inside the vehicle and how you arrange them.
19. Keep Children & Pets Safe
There are many dangers to pets and young children on the day of the move. Consequently, you should stay proactive and do everything you can to keep moving action as far as possible from your loved ones.
It's definitely not a good idea to let small feet run around unattended during the moving day. As a result, ask a trusted family member or friend to take care of your children and pets while you assist your local moving team. If you are making a Do-It-Yourself move, you will have to move heavy boxes with your friends.
It's important to remember that, during the move, your family's health & well being are your top priorities.
20. Reduce The Cost Of Local Moving
Packing yourself can save you money. And yes, packing and arranging a local ship requires family participation.
Some local moving tips may be appealing to you, and others may not, but there is advice that'll save you money when it comes to moving.
If so, you should take it since your hard-earned money is at stake during your relocation.
Fortunately, there are several approaches to cutting costs, including the following top 5 methods:
A DIY move might be a good idea if all of the requirements are met. If not possible, then
To transport your household items, choose a budget-friendly local mover;
Before packing, minimize how many items you have; this will streamline your move;
Get free packing materials and boxes to minimize your packing costs;
You can save money by packing your items yourself rather than paying a professional to do it for you.
Final Words
Are you planning to move locally soon? The ultimate guide has been prepared for you so you can have a smooth relocation free of stress. Essentially, 20 moving hacks are ways to make moving a bit simpler for you. If you follow the tips above, hopefully, your move won't be as bad as you thought it would be. I hope this informed article was helpful for your next local move. Please let our local moving company Maryland know if there is anything we can assist you with. Thanks for reading.
Even though local moving company Maryland works locally, did you know we do long-distance moving as well? As a professional moving company, Maryland Movers takes pride in providing tailored moving plans to meet every customer's needs. We understand that every move is unique, which is why we offer moving resources to help make moving more personalized. Each of our moving plans is tailored to match your budget, time frame, and moving requirements.
See Our Related Other Blog Posts :