As you prepare for your move, you often have this question: How Far In Advance To Book Movers? The answer is that you should start contacting movers as early as possible, particularly if you're moving in the summertime. Summer is usually the busiest season for movers.
Basically, to hire a mover, allow yourself 8 weeks' notice. While moving across the country or to another country, it is always advisable to give yourself more time as well as the movers. Therefore, if you are moving internationally, nationally, or state-to-state, call at least 8 weeks in advance and no less than 4 weeks in advance. Whenever possible, plan a move 12 weeks ahead, especially if you're moving in the summer peak period.
If you are moving within your city, you can wait until 2 weeks before moving. Don't forget, if you start early, you'll get a better deal and have more options to choose from. A price difference impacts the amount you save, as well as the service quality.
Why Moving In Advance Is The Best Option? [Answered]
There is no question – hiring a mover sooner will always be beneficial to you. Obviously, you will benefit from the following reasons if you act sooner: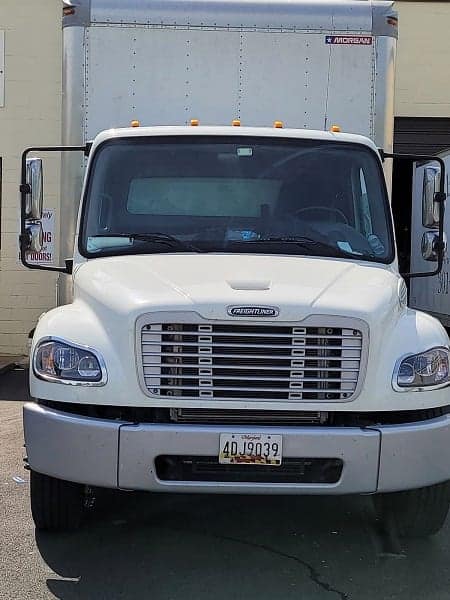 When you reserve your desired moving day in advance, you can focus on other factors of moving, such as arranging belongings and packing up the house.
You will get highly trained and highly experienced moving team members who know exactly what they're supposed to do. You will get exceptional relocation assistance from them too.
Moving companies will reward proactive clients with discounts when you book your move early, so be sure to plan your move accordingly.
A greater choice of movers will be available to you, increasing your chances of finding the right moving company at an affordable price.
You will be much less stressed if you book your mover in advance. You shouldn't wait too long before booking a shifting company – otherwise, you could miss the opportunity to hire a great mover.
As summer approaches, several moving companies must hire temporary workers with little or no moving experience. Finally, when inexperienced strangers are present at your home, things can easily get out of control and can be extremely harmful.
Hire Moving Company In Advance: What Are The Main Reasons
Traditionally, summer is a popular time for moving, but today's work & school schedules make moving more convenient. As a result, people are working their schedules around companies' requirements.
If you book early, it's easier for you to find a mover you like, allowing you to concentrate on other aspects of your relocation. A move booked early can help you achieve the following:
Greater Options For Movers
Availability affects reservations, so when you book first, the greater the chance of hiring top-rated movers. On most moving days, moving companies are available, so you can find a partner that suits your needs.
An experienced, properly licensed contractor who provides quality work at a fair price. This gives you the opportunity to gather recommendations, look at moving reviews, get quotes, research the movers, and choose the best one.
The Specific Mover
There is a possibility that some top-rated companies will fill up well in advance, especially now with so many people moving from one county to another.
Getting in touch early will help you to find a company that can accommodate you. Don't know which service to choose? Check out our best offer.
Guaranteed Equipment
When you book early, you can be sure that your move will be carried out with the proper moving equipment.
Reduced Costs
In general, the earlier you start your move, the more cost-effective it will be. Almost every moving company will offer you a discount if you book early (this ensures them a guaranteed job).
Better Organization
With a move-out date set, you can plan the remaining time, which will allow you to accomplish all the relocation tasks on time.
The Locked-In Rate
A majority of providers lock in their rates at the time of booking. If your move details change, you'll have some extra costs to consider.
In addition, since prices are likely to increase as demand grows, it may also be cheaper to book early.
Time & Date Of Your Choice
If you need to move out and in by a certain date, you will have the best chance of finding an available unit if you call far in advance. You will then be able to schedule your move accordingly.
Time To Go
When you have a schedule in place, you can give your full attention to packing and making moving plans. You can also change your address & take care of other details before the day of moving. Follow this checklist after booking to ensure you're ready for moving day.
Feeling Of Peace
In the end, you can rest assured that your move will be handled by professionals, as well as the safety of your belongings.
Why Should Not Late To Book Early? [Here's Some Great Reasons]
In case you wait too long, you might not be able to hire the best relocation companies.
You might have to deal with a poor moving company, which causes plenty of problems.
Movers are in high demand, so they won't be available 1 month or 2 before your move.
Comparing moving quotes is the first step, and it's important to find the best moving company as fast as possible.
Before hiring questionable moving companies, you should consider other options, like container moving companies.
Container moving companies are movers who load your goods in a container, which they deliver to your home.
Even if you cannot book your relocation team far in advance in every situation, you should book early so you can find the best movers for your needs and are certain of the moving date.
If you want to cancel the movers, it's helpful to understand how much time you have to do so and get refunded for any deposits.
When Should You Move Depending On Situations
Summer Local Moves Between The Same City
Summer is a great time to move, so make your reservation right away. Ideally, at least 2 months beforehand. In the worst-case scenario, give yourself at least 4 weeks. Therefore, if you are moving within the next month or two, your choices will be limited. Good movers tend to be booked 2 to 3 months in advance.
Off-Season Local Move Between The City
Unless you are moving in the summer, you can typically book 2 to 4 weeks in advance. Regardless of the time of year, even in the winter, fall, or spring, good movers are always booked up, so give them plenty of notice.
During Summer, Move To Different Cities Between Nearby States
Intrastate moves, which occur within a state, are simpler than those that occur outside a state. That means you need to hire movers 10-12 weeks before. Because fewer people are moving from one city to another in their own state. Therefore, give yourself 2-3 months to prepare, especially if you are moving in the summer.
During Off-Season, Move To Different Cities Between Nearby States
An intrastate move that isn't scheduled during summer will be best booked between 4-8 weeks in advance. That will allow you the necessary time to get everything done.
Summer Move Across State The Lines
It is a move across the state lines, where you move your stuff from one city to another. It is a much more complex process compared to interstate moves, so give yourself a minimum of 12 weeks to prepare.
Off-Season Move Across The State Lines
Off season moves, which involve moving across the state the lines, need at least 8 weeks' notice. Additionally, the further away you move, the fewer moving companies there are available to help you.
Moving Internationally
If you are moving internationally, you should start booking at least 3 to 4 months ahead of time. Since you have so many activities to complete, moving companies require advance notice. Furthermore, there is a difference when moving from a bordering country, like from the US to Canada, or moving overseas.
Final Thoughts
What is the best time and how far in advance to book movers? Basically, you should plan your move as early as possible. When you know about your move advance in months, you should hire moving company then. A month before the move, let your movers know immediately.
Do you have just a few days or a week until you have to move out this summer? Don't worry. There are plenty of last-minute moving companies on hand to help you. It will only make it much more difficult to move than you had hoped.
See Our Related Other Blog Posts :